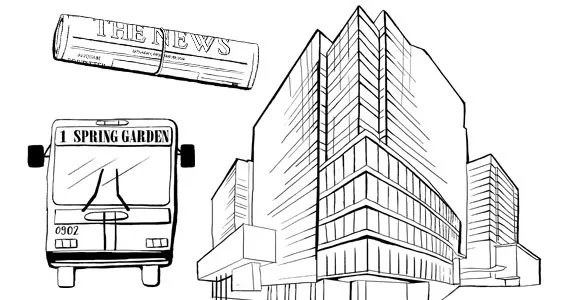 JANUARY
King Street station's closure stayed. Chronicle Herald strikes. 130-year-old Keith's bottle found, sampled. Ralph's Place launches courtesy shuttle. Squirrel knocks out electricity to 5,400 homes. Dark Side Café contests $47,000 in fines. Data security breaches at CFB Halifax.
FEBRUARY
Cindy Day vs. Frankie MacDonald. Matt Whitman apologizes for tweets. Viola Desmond wins ferry name. Gary Burrill wins NDP leadership. Tony Mancini wins council seat. Lyle Howe sexual assault charges dropped. Hafiia Mira walks Kanye West's fashion show. "Cape Breton If Trump Wins." NSCC students showcase Preston land title mess. Local XPress announced. Andre Denny sentenced for Raymond Taavel's murder.
MARCH
Demolition begins on Doyle Block. Ghostly howls at Nova Centre. Yoga instructor Kristin Johnston killed. Excavator on Spring Garden falls through roof. That alien-looking fish. Internet black widow released from prison. Peter Kelly hired as Charlottetown's CAO. Good Robot's condoms seized at border. Rebecca Thomas named HRM's poet laureate.

APRIL
Internet black widow arrested again. Herald alleges Muslim children terrorizing elementary school. Justin Trudeau swarmed at Seaport market. Tyler Richards found dead, the first of three homicides in a week. #HomesNotHondas. Moving Forward Together approved with 23 asterisks. Duffle bag of guns found outside Millwood High.
MAY
Cornwallis naming debate shut down. Joan Jessome retires. Acclaimed illustrator Darwyn Cooke dies. Steven Skinner arrested in Venezuela. #Halicop. Bear strolls through gas station parking lot. Trade Centre CEO Scott Ferguson resigns for better job. Linda Mosher grabs Shawn Cleary's domains. Multicultural festival shuts down over $26,000 in debts.

JUNE
Candlelight vigil for Orlando shooting victims. Police audit reveals missing evidence. Council gushes over Sidney Crosby. Nova Centre legal action launched. Man loses pants after drunken night out. Hells Angels are back. Blue Mountain report lambasted. Landon Webb victorious, Incompetent Persons Act declared invalid.

JULY
Minimum wage axed for athletes. Crosby visits with Cup. Taxi driver sexual assaults. New CAO Jacques Dubé. #SaveYoung Avenue. Canoeists rescued by Bill Casey. Via Rail pitches commuter rail. Low-income transit passes. Sable Island gets Google Street View.

AUGUST
Lisa Roberts wins by-election. Sobeys withdraws racial profiling appeal. Unfiltered tells NSLC to fuck off. HRM sunshine list finally published. Dalhousie spends $300,000 (US) on MIT trip. Feds announce $120 million for NS infrastructure. Everyone watches the Tragically Hip. Forest fires near Keji. Amherst's George Baker uses n-word, runs for mayor.

SEPTEMBER
Citadel Hill tax battle end in $20 million payout. Bomb threats. Settlement reached for St. Pat's-Alexandra. Maritime Bhangra Group dance at Peggy's Cove. Fliss Cramman shackled to hospital bed. Firearms for bus fares. Ellen Page endorses Lil MacPherson for mayor. Southwestern Nova Scotia droughts affect thousands.
OCTOBER
Election! Premier brags about private texting. Pinkwashing motion voted down at Pride AGM. Guilty pleas from murderers of Catie Miller. Heritage advocate Philip Pacey passes away. Severe flooding washes away Sydney homes. Richmond audit finds money spent at Texas strip clubs. Bay Ferries down 15,000 passengers from Nova Star. Centre Plan released.

NOVEMBER
Fentanyl crisis oncoming. Security forum reckons with Trump. Fire chief retiring. Halifax tries to block Africville class action. Gun violence leaves three dead. Gord Downie visits. Alton Gas legal brief says Indigenous peoples are conquered. Nova Centre delayed, again. Ottawa and Nova Scotia work out carbon pricing. Auditor general details misspending on schools.

DECEMBER
Teachers' union announces work-to-rule. Province shuts down schools. Everyone protests. No one knows what's happening. Diana Whalen hospitalized after heart attack. Police standoff in Fairview live-streamed to Facebook. Automated bus announcements start. Canadian Premier League pitched for Halifax. Viola Desmond on the new $10 bill. Snow day!