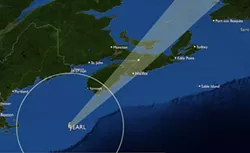 Saturday morning Earl tracks between Yarmouth and Halifax.
There's a good news/bad news thing happening with the Earl forecasts. Friday night at CBC, he
he was a hurricane
on track to cruise up the Bay of Fundy and hit New Brunswick. Saturday morning, he's been downgraded to a tropical storm, but his projected track has moved smack dab over Nova Scotia.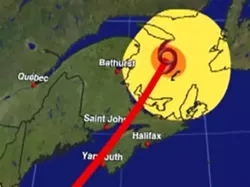 Friday night Hurricane Earl tracks between Yarmouth and Saint John.
According to the
Stormpulse map
Earl will be nearest Halifax mid-afternoon Saturday.