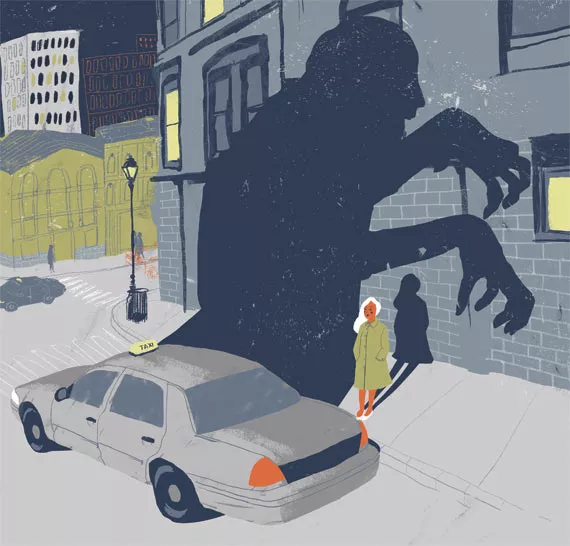 The Coast asked our readers if they've ever been assaulted or dealt with creepy, inappropriate or harassing behaviour by a cab driver. Here are the stories you shared.
———
"In July 2009, I was assaulted by a driver. I had a great chat with him while he was driving me home and thought I'd give him a decent tip for being so cordial. Once I tipped the driver, he grabbed me and tried to kiss me. He was not successful. I immediately called the police and had them take a report. He was charged and convicted of assault. Upon conviction, he was suspended from driving a cab for a year. I am not sure if he is driving a cab now or not, but I wanted to make sure he knew he could not get away with grabbing a paying customer and to hopefully stop it from happening to anyone else. I didn't feel safe taking a cab by myself for years. It still bothers me, but not nearly as much as a few years ago. Always, always check the roof light and company before getting in!!"
———
"I had a cab driver call my cell phone number several times trying to talk to me after he dropped me and my friends off. He had my number because they ask for it at dispatch when you call incase the cab driver can't find your address I guess. It was totally unacceptable and I called the main office and complained about him. He kept staring at me the whole drive and made me really uncomfortable, my friends even made a comment after we got out of the cab that he creeped them out looking at me. I don't know what gave him the impression he had the right to use my number to contact me but I think that this is not a good policy."
———
"I've gotten super creepy vibes from many cab drivers. Never had any inappropriate comments or touching, but I always sit in the back in the corner opposite the driver."
———
———
"I've had two instances where I have felt very unsafe and violated. The first time, I was in high school. I didn't have a vehicle that day, so my parents told me to take a cab. I remember feeling uneasy doing so, but I did (I had to get to class!), and the taxi driver started asking me questions. It eventually got to the point where he was asking me if I was a virgin and asking how old I was, and if I enjoyed different sexual acts. I was scared and awkward and tried to deflect his questions, but nothing seemed to work. I was afraid he wouldn't let me out of the taxi, so I got out at a red light and ran the rest of the way to school.
"The second was after a night at dinner with friends. Because I shut down a taxi driver's flirting, he made me get out of his vehicle, and yelled out the window "You're an ugly, fat cunt anyway". So that was lovely to hear.
"I will say, for the most part, I have had great experiences with drivers, but have kept to myself, only answering questions about the weather or how my day is going. Though I know I didn't do anything to deserve either disgusting encounter, I do anything to keep that from happening again, so I keep it very minimal."
———
"Totally inappropriate cab driver behaviour when I lived there in 2005. Had a driver try to put the moves on me after offering me a free ride after he'd dropped off my friends. So creepy!"
———
"Dozens of sexist comments over the years (example of one while going to a meeting: "Who are you to take away a man's job?")."
———
"I have never in my entire life been in a taxi alone and felt safe. Just like I've never walked alone at night and felt safe. It's the everyday reality of being a woman that stretches far back into girlhood. I have three friends (that I know of) who were raped, and one of them did happen in a taxi. I've been sexually assaulted twice in crowded bars, and witnessed two assaults happen to other women, one on a bus, and one at a bar. All of these were unreported. I walk alone in the city a lot so I endure street harassment from men on the regular. There are very few times and places in my life that I feel truly and completely safe."
———
———
"I have not been physically assaulted by a taxi cab driver, but I have countless experiences with cab drivers saying sexually explicit and super-obviously-creepy things, such as 'Everything is about sex,' and 'You just pretend to be a good girl, don't you?' I don't buy the scapegoat of blaming cultural differences on this insipid creepiness—the creepiest cab drivers I've had were consistently white Nova Scotians. By comparison, the kindest and most professional cab driver I've ever had was Iranian.
"I've had plenty of friends tell me horror stories of rape and attempted rape by their taxi drivers when they were intoxicated, exhausted or distracted. They told me that even after reporting the incident to the taxi company directly, no actions were ever taken. One friend was told that the cab company denied all responsibility for the behaviours of their drivers. Therefore, I only ever ride in a cab if I'm 100 percent sober, and ready to fight for my life. There have been a couple of times I needed a taxi to/from the hospital but decided to walk instead because I didn't want to get raped by a taxi driver."
———
"A guy put his hands on my girlfriend once and I nearly had to fight him in the street. I called to report him to the taxi company and they said 'Yeah we get a lot of complaints about him.'"
———
"I've personally experienced harassment in a cab. Thankfully it wasn't physical like many stories I hear, but the cab driver did make me very uncomfortable with his words. He continued to ask personal questions about me and then wanted me to call him for dates while he was dropping me off. I felt uncomfortable knowing that he was dropping me off at my home and that I was alone. It didn't go past that, which I am very lucky for."
———
"I once had a cab driver pick me up and take me to Point Pleasant Park randomly in the middle of the day so he could "show me the view"—even though I live in Halifax and have seen it many times. He stopped in the parking lot and got out to have a smoke. He asked me about my studies as I sat in the back seat (I was in university at the time). He got back in the car after his smoke and dropped me off to where I needed to go. He didn't charge me the fair. I have no idea why any of that happened but it still creeps me out to this day. I have since taken cabs but I am reluctant to take them alone, especially if I've been drinking—which is sadly the only time I really need them!"
———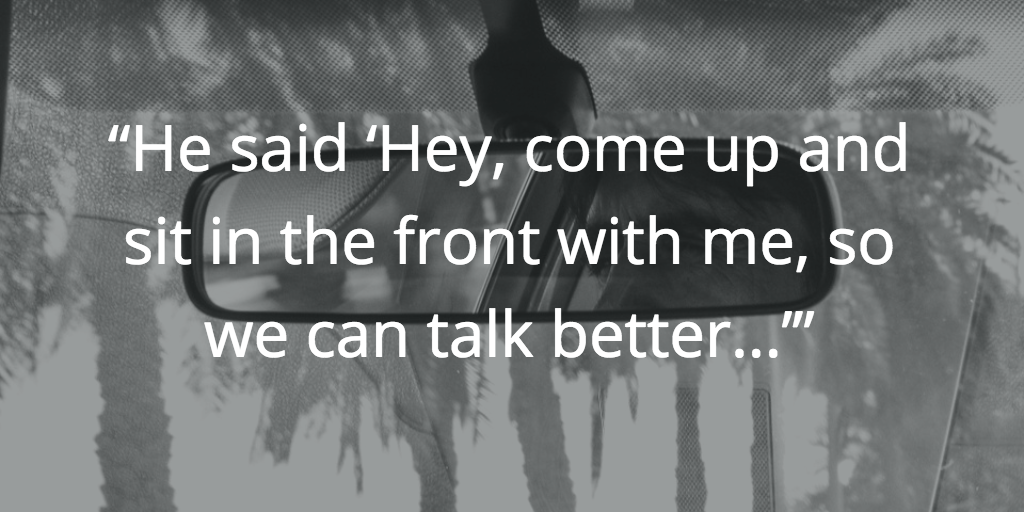 ———
"My wife has had a couple of very bad experiences with cabs in HRM (not sexual assault-type bad) and it was made worse by the fact that while she was in the cab, she didn't know the cab number or the driver's name. We lived in Toronto for a decade, where drivers had to post their licence with cab number, name and a big picture of them that was on the back of the driver's seat so when you were in the cab you could see it very clearly. We liked that and feel that the same should be done here. Some drivers contacted me to say they already are supposed to do that. My wife called HRM and they said it was a policy but she couldn't find it anywhere. Anyway, it's not what happens in the majority of cabs we've been in. I asked several drivers about it and most immediately started in with excuses: 'They get stolen by drunk passengers,' 'I want my privacy, They shouldn't know my name.' So maybe this goes to better enforcement, or education, or maybe a new, more clear policy is in order. Regardless, we don't think this is too much to ask and can help improve the shaken confidence passengers have with our taxi industry."
———
"In March 2006, at age 24, moved to Halifax for two months while I was applying to a local post-secondary education program that had a Nova Scotia residency requirement. I lived in the apartment buildings off Bayers Road, next to the train tracks. My friends and I went out for the evening and a group of four of us caught a taxi back to the apartment. I sat in the front and chatted with the driver on the way. I asked to be dropped at the gas station at the end of our long driveway so I could purchase some cigarettes. The taxi obliged and then continued on to drop my friends at the building.
"I went to the store, and on coming out, heard a voice calling and trying to get my attention. It was the taxi driver, filling up with gas. I smiled and waved and kept walking—he then asked if I wanted a ride to the apartment. I thought this a bit odd, and initially declined, saying it wasn't a far walk. He insisted that it would be no problem and would be free. Still confused, but being slightly inebriated, and remembering how friendly he's been in the cab, I relented—it was only a 30 second drive. On stopping the cab, I bid the driver goodnight—whereby he promptly leaned over in an attempted embrace, and then tried to kiss me. I was a bit shocked—this man was easily 20 years my senior and I had given him nothing beyond polite conversation. I recoiled and jumped out the door, ran to the building and buzzed the door to be let up. I didn't feel in serious danger, but was definitely creeped out, and things could have gone poorly had he been more insistent, as it took my much more inebriated friends some time to respond to the buzzer—tense moments to say the least!
"I'll never forget it—I've never been treated that way in any other taxi in any other city and I've traveled around the world a fair bit at this point. Retrospectively, I feel the offer of a ride home when I was alone was a little bit predatory. Cameras that send the footage back to a third party for review and deletion would definitely be worthwhile!"
———
"I wanted to share a story of a taxi ride I had about four years ago. I was at a wedding in White's Lake, and I have to admit I was pretty drunk. The bride called me a cab, and when I got in, the man driving was very friendly, but not inappropriate at all at first. Then when we got about 15 minutes away from my house (the whole drive was about 1/2 hour), this is what happened.
"He said 'Hey, come up and sit in the front with me, so we can talk better.' I was like 'Sure!' (Probably not the smartest idea). This was while he was still driving that I hopped over the seat. Then, a few minutes later, he pulled over and grabbed my face and tried to kiss me. He wasn't a big guy. I remember feeling angry, but not really afraid. Sometimes though when I've had a few drinks I don't feel frightened even when I probably should.
"Anyway, to be honest it took me a second to react, and then I pushed him away and said (quite angrily and forcefully) 'Hey!! Stop that! I'm married and you are probably married too!! DON'T DO THAT!!!' He actually looked kind of ashamed, and we didn't speak at all until I got out and paid.
"I've had a few instances where the driver was a big cranky jerk, but that was the only time a driver tried to hit on me. From then on, if there is booze involved, I make sure I will never be taking a taxi alone at the end of the night. I couldn't tell anyone (especially not my husband). I know logically I didn't ask for that to happen or anything, but I feel a little responsible for being drunk and getting in the front seat when he asked."