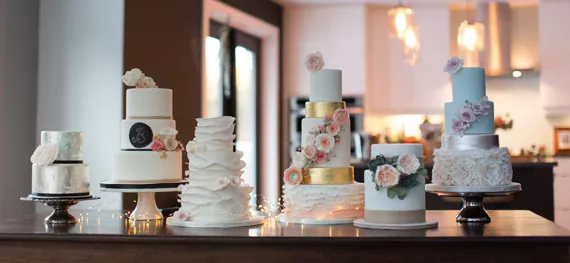 Nicole Lapierre
Beautiful baked goods by Just Iced Custom Cakes.
Can you share a few pointers on how couples can decide on a design that suits their day?
When searching for inspiration for your wedding cake design, there are a number of things that can be helpful. Things such as wedding colours, decor, flowers, the overall theme, venue, even the dress can all help with the design inspiration. Working with a cake designer can also make the process a little less overwhelming. As a designer, part of my design process is bringing ideas to life in sketches, which is always a fun part for couples. We are able to work together through sketches until we design that perfect cake they have been envisioning.
What kind of delicious details should couples consider?
Elements that go into a wedding cake can include things like size and shape, design and flavour. Finding out what overall look you want to go with is important, such as three-tier versus four-tier and round versus square. Probably the most important element is the design component. This is where the couples can take the information about their wedding (colours, flowers, theme) and work with a designer to bring to life all of the perfect details they want to have on their cake. Finally, choosing a flavour combination for your cake and icing.
Your cakes are so beautiful! How do you bring your ideas to life?
I often draw my inspiration from a number of different things. It might be gathering wedding information from my couples, or being inspired from something I see often from other talented wedding vendors such as photographers, florists and so on. I have a lot of fun playing around with ideas in the form of sketches. From there, I make all of my flowers and details by hand, usually from sugar paste. As a cake artist and designer, it's all about the details and making them look as life-like as possible is so important. Finally I get to assemble everything and bring it altogether, which is definitely the most exciting part—seeing your sketch turn into a reality.
What has been the most unique request you have had for a cake?
The most unique request was probably a beautiful three-tiered wedding cake decorated in handmade flowers, with a separate sculpted Jeep cake flinging mud (AKA chocolate icing) all over the back and side of the wedding cake! Very fun, but a little heartbreaking at the same time!
---
Meaghan Adamski is the cake designer and artist behind Just Iced Custom Cakes. She creates stunning wedding cakes with intricate designs and attention to detail, capturing the realism and beauty of flowers in her gum paste creations. justicedcustomcakes.com