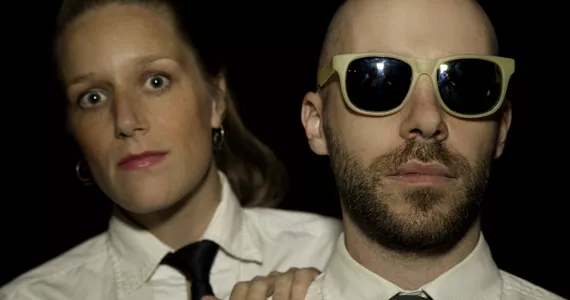 When planning its fifth annual tribute show and fundraiser, Angels & Heroes Theatre Company decided that honouring a heavy-hitting female performer was way past due. But to be on par with their last four shows---which featured Rufus Wainwright, Queen, Elton and Bowie---she had to be a lady of the fiercest kind; someone who had not just left an imprint on the music scene, but was a humanitarian icon to boot.
When it comes to artists who are just as inspiring as they are inspired, Scotland's modern-day goddess Annie Lennox was a bit of a no-brainer. She didn't just have the repertoire Angels & Heroes was looking for---she's a human rights force to be reckoned with, digging her heels deep into the awareness and prevention of HIV in South Africa. Most recently she's been awarded the Walpole Scottish Medal of Excellence, proving the badass queen of drama is no doubt worthy of a tribute.
"She's represented both sides; she's been uber-feminine but also forged the way for women to own a masculine presentation of themselves. That's the great thing about her," says Tara Patriquin, who founded Angels & Heroes in 2002 with former classmates Richie Wilcox and Heather Davis. "It doesn't matter whether she's gay or straight, dressed like a man or dressed like a woman, she's a brilliant artist. And everyone can appreciate that."
Especially Christina Martin, who's been lending her gravelly pipes to the event for the past four years. "I remember watching Eurythmics music videos when I was a little girl and wishing I could sing and move with as much magnetism as Annie," says Martin, who'll pay tribute to Lennox alongside a long list of performers including Tanya Davis, Carmen Townsend and Norma MacDonald. "She has taken risks in her art that have left footprints in the world of fashion, theatre, the gay community and other areas I'm sure. I have always felt like she has had something to say that resonates with the masses. I think she is iconic for that reason, both men and women find her powerful and appealing."
Though the tribute is a fundraiser for Angels & Heroes' next production (details of which Patriquin remained tight-lipped on), it's also an official Pride event. After having the good timing (and good sense) to plan the inaugural tribute show during 2007's Pride Week, Patriquin, Wilcox and Davis were asked to join the official lineup of one of the city's liveliest weeks of the year. And so far, they've been a brilliant fit. "These tribute shows are, for me, the unofficial beginning of Pride Week," says returning performer Ryan MacGrath. "It's so great having musicians supporting thespians and vice versa, and all the while everyone supporting the LGBTQ community."
Patriquin says that year to year she looks forward to not just the eclectic performances, but the diverse crowd that the event draws. Music-lovers, Pride-goers, theatre supporters and fans of the artist of choice come together to, above all, support equality and the icons among us.
"I think Annie's support for the gay community and the fact that she is so public about that support is what makes her an icon," says Molly Thomason, a new Lennox fan who'll also perform. "To me, an icon is someone who not only talks the talk, but isn't afraid to walk the walk in front of the whole world."