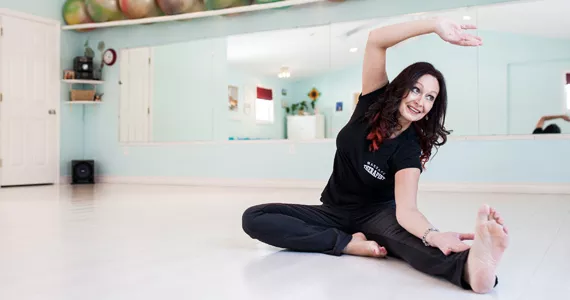 What services do you offer at your clinic?
In addition to a Registered Massage Therapist, I also am a Certified Interactive Reflexologist, plus I studied electives in pregnancy massage, myofascial, sports massage and Suikodo Therapy at ICT. At the same location as my clinic, I also run Bloomers Yoga & Fitness Studio, which offers yoga classes, post rehab/personal training, fitness/dance classes and also off-site yoga/global dance classes for schools.
What is it like to own your own clinic?
Clients love the fact that it's only minutes away from the city, set in a beautiful healing environment where you can hear the waves from the ocean and have the energy of the eastern sun filter in. I was also lucky to have a core group of clients from my existing fitness/yoga business who were so happy to now have a massage therapist as well. I still remember how excited I felt when my first client wanted to book another appointment—one of biggest compliments a massage therapist can get.
Tell me about a great day on the job.
One day, one of my clients told me—after a very long, painful road of rehabilitation—that they have started to resume activities they hadn't been able to do in two years. It was a moving experience, because they felt it was my massage therapy treatments and post-rehabilitation background that helped them take that next step.