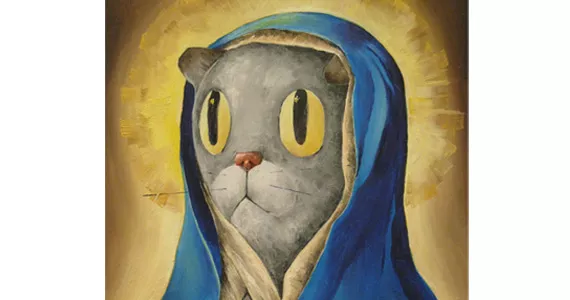 Depending on what circles you run in, the majority of your internet leisure time (and, let's face it, probably some of your internet work time) is flooded with images, gifs, videos and cartoons of cats.
Not since Egyptian times has pop culture been so dominated by these fuzzy dictators, something that Argyle Fine Art curator Adriana Afford couldn't help but notice. Afford's own home is run by four felines who probably now control her mind through their toxic kitty pee brainwaves, likely resulting in this month's show, Cat Person: A Show all about Cats, running until March 12. "Of course, fine art galleries aren't supposed to do such shows, right? But we thought why not? It's February and everyone needs a little lift," says Afford. "We had an idea of the type of cat show we wanted---not your traditional sort of images."
Featuring a variety of work from 30 artists---like The Coast's Best of Halifax readers' pick for visual artist of the year Nick Brunt, Mirco Chen, Bryanna Chapeskie, Laura Kenney, Seth Smith and Adam Gunn---seeing all those depictions of the holy eye, nose and whisker trinity is enough to make any cat fan giddy. Pieces range from photorealistic, to the more abstract, including images on greeting cards, cat-themed paper crafts and a skateboard deck. Near the gallery entrance is Angela Penton's "Voodoo," a life-sized felted cat in a permanent state of enquiry. Adam Gunn's pair of stark oil paintings feature two alarmed cats seemingly caught in headlights. Gunn's portrayal goes against the modern proclivity to anthropomorphize cats, and provides some much-appreciated tension to the subject.
"Cats are cute, but there is also something mysterious about them. I was thinking about that automatic threat response cats have when they're scared---when their fur stands on end and they stretch out their limbs," says Gunn. "I thought something to do with this would be a good way to make paintings with tension---by painting their reaction to something that seemed mysterious."