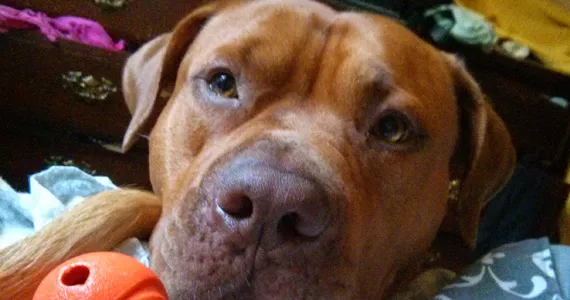 FACEBOOK
Doggy jail hasn't stopped Chomper from being a total cutie-pie.
CORRECTION: A previous version of this article incorrectly stated Bastarache visited her dog at Wyndenfog. All visits with Chomper took place at Homeward Bound. Wyndenfog was also incorrectly identified as a pound. It is in fact a boarding kennel. The Coast has removed these references and apologizes for the errors.
Chomper was seized by the city this year after an incident with another dog. The young pitbull had attacked a smaller dog, who ended up dying. Chomper was held at the Wyndenfog kennel in West Chezzetcook for eight months while owner Jessica Bastarache awaited her court date.
Vaughan Black, a professor of animal law at Dalhousie University, says the dog bylaws in HRM are seriously flawed. The lack of clarity in the legislation allows the city to hold dogs captive for undetermined and long periods of time.
"It's full of spelling errors, and looks like it was drafted by a grade seven student," says Black. "And that's evidence of the bigger problem, which is that this is not a well-thought-out piece of legislation."
As it presently stands, the facility owner is obligated by the city to hold seized animals until the legal matter is dealt with in court. Black says the law should be changed to put the onus on Halifax. The city should have to take the animal owners to court to prove the dog is dangerous and then have it taken away.
"Unlike a piece of material evidence, such as a gun, the animal is going to suffer from not being with the owners," Black adds.
The Wyndenfog kennel can house dogs that have violated HRM bylaws. It's subcontracted by Homeward Bound, the private company that holds the pound contract with the city. Usually, the dogs' owners are awaiting a court date—which can take months, sometimes years.
The owner of Homeward Bound, Hope Swinimer, says the brand-new facility is adapted for long-term stays. "Unfortunately, the courts move very slowly, and taking an animal away from their owner is never ideal, so we're trying to make their stay as comfortable as possible," she says.
She adds that Homeward Bound have been trying to keep the subcontract with Wyndenfog a secret because it deals with cases that are before the courts. "Sometimes it's better for the sake of peace and quiet," she says, admitting that Wyndenfog's owner has been subject to harassment because of her role in keeping these dogs at her facility for extended periods of time.
Susan Jordan, a professional dog trainer who specializes in behavioural issues, says HRM's bylaw is not up to date with current canine science. "It was not written in consultation with a canine behavioural professional, and shows a huge lack of understanding of animal behaviour."
According to the bylaw, an "attack" can still be defined as a dog giving the impression of threatening a person or another animal.
"Posturing is a way for dogs to mitigate conflict. By misinterpreting terms such as 'attack,' we are calling non-dangerous dogs dangerous," Jordan says, adding that if laws were more comprehensive, fewer dogs would be locked up.
"What we need is education," Jordan says, adding that Calgary recently implemented forward-thinking animal legislation, including mandatory behavioral assessments to access city dog parks. "Their incidents have dropped dramatically as a result."
Jennifer Stairs, a communications advisor for HRM, confirms the bylaws were not written in consultation with canine behavioral specialists, but adds the municipality is in the midst of reviewing and rewriting them.