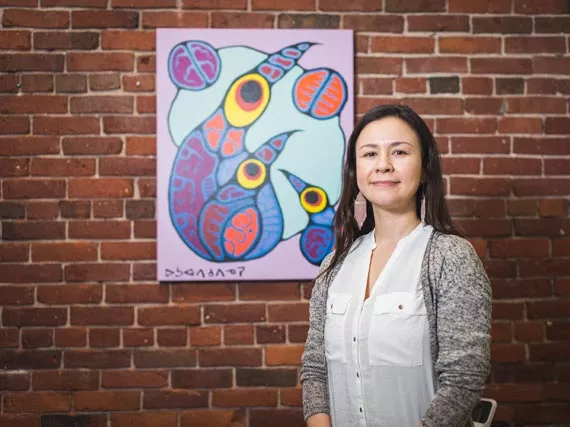 DYLAN CHEW
Professor Amy Bombay has been researching the cross-generational effects of historical trauma and its impact on indigenous Canadians.
A community agency in Halifax that provides programming to urban aboriginals has identified mental health help for its clients as a priority.
But not only is there a gap in service to address that need at the Mi'kmaw Native Friendship Centre on Gottingen Street, the city as a whole is lacking the culturally based health care that would benefit indigenous people with emotional problems, says a Dalhousie University faculty member and researcher working with staff at the centre.
Professor Amy Bombay is planning to help officials at the friendship centre pinpoint potential sources of funding for mental health counselling. She says not all avenues of financial assistance have been explored, but "I think just awareness of this...needs to kind of get out there."
Bombay acknowledged there are gaps in mental health service in Nova Scotia for natives and non-natives alike. With respect to indigenous people, many are leery of the established health system and of seeking professional help.
"A lot of aboriginal people prefer [heritage-based] services that are offered outside of the mainstream medical system," says Bombay. Regarding achieving better mental health, that often includes aboriginals harbouring "a more holistic view" of mental health and its treatments.
At the non-profit friendship centre in the north end, one of the first places an indigenous Halifax-area resident goes for support, there just aren't the funds in place for mental health service. The centre operates on money from the provincial and federal governments, and from some private donations.
"What they don't have is mental health clinicians" at the centre, Bombay says, "who will work in conjunction with elders and [others] to provide culturally-appropriate mental health support."
The friendship centre, which has been operating since the 1970s, offers several core programs. Executive director Pam Glode-Desrochers confirms there are no staffers qualified to diagnose mental disorders.
"That clinical piece...is huge. It's somebody who becomes intertwined in the community" and who can assist indigenous people in need of counselling, Glode-Desrochers says. "It's definitely a priority."
A mental health project the friendship centre does have for youth is an awareness program with activities for young aboriginals, Glode-Desrochers says, but there's no clinical help.
Bombay, who's Anishinaabe from the Rainy River First Nation in Ontario, teaches at Dalhousie's school of nursing and in the faculty of medicine's psychiatry department. The granddaughter and niece of former residential school students, she's been researching the cross-generational effects of historical trauma.
"We know that a lot of our elders are suffering high levels of [psychological] distress due to residential schools and other things related to colonization," Bombay says. "But we know that distress is also high in their children and grandchildren."
A year ago, the Assembly of First Nations released a national framework addressing indigenous peoples' mental health. The project was launched to help plug the gap in the health care of Canada's aboriginals.
"Federal, provincial, and territorial mental wellness programs and services do not currently meet the needs to address the mental wellness challenges faced by many First Nations communities," a news release last year said. The framework "identifies ways to enhance service co-ordination among various systems and support culturally safe delivery of services."
The Canadian Mental Health Association says 20 percent of Canadians will experience a mental illness during their lifetime.