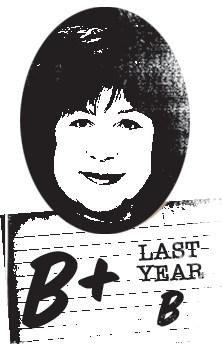 2010 grade: B
2009 grade: C+
2008 grade: C+
In this transitional year for the city bureaucracy, as there's substantial management turnover and a series of scandals and bureaucratic failings hitting city hall, it's a damn good thing we have Jackie Barkhouse on the political side of things. Barkhouse repeatedly calls out the top-heavy management system, and wants a thorough restructuring of city hall. It's tough to battle an entrenched bureaucracy---the old boys' network extends so far as other councillors and the mayor's office, and hugely important debates are kept from the public by keeping them secret with the overly broad label of "personnel issue." But it's readily apparent Barkhouse is deep in the trenches.
Barkhouse also understands the council size issue inside and out, and gave one of the best speeches I've heard this year on that issue. One quibble, on the speaking front: She thinks she's speaking to councillors who are as informed as she is, and not so much to the public. Barkhouse needs to understand that a lot of councillors don't really get it, and the public is too far outside the loop to easily see what's going on; if she was a bit more explanatory, she'd probably get more traction. And yes, it's too bad council has the intellectual heft of a bag of rocks, but that's the world we live in.
How to improve: Breathe deeply.