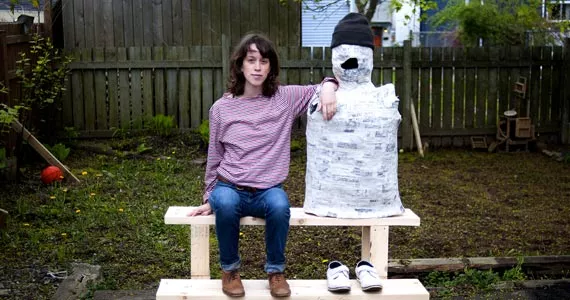 Higgins and papier-mache James Franco.
James Franco is coming to town. Sort of. Franco is collaborating with NSCAD University student Allison Higgins for her graduate exhibition at the Anna Leonowens Gallery. Though he's best known as an actor, Higgins only really learned of the star through his artwork.
It began with her perusal of an art gossip and party blog. She noticed that more than any other celebrity---and perhaps even artist ---Franco kept appearing. "I became interested in how prolific he was. He's a renaissance man," says Higgins. Franco's polymathic pursuits currently include academia, filmmaking, writing, painting and performance art.After researching the enigma and learning he was attending art school, Higgins began a series of Franco-inspired work, including a sculptured monolith of the actor. She considered them collaborations with Franco, though unbeknownst to her creative partner.
In the 1970s, NSCAD University was known for its collaborations with contemporary artists such as John Baldessari and Vito Acconci. Higgins' professor, Jan Peacock, encouraged her to continue that tradition and contact Franco. "I was really nervous. It had just been announced he was hosting the Oscars, so he was shooting into superstardom and I thought it'd be impossible. I thought I'd have to buy a billboard outside of his apartment saying 'James, please call me' or something," she says with a laugh.
With the help of friends, professors and their connections at various art school institutions, she eventually got his student email address. She emailed him the morning of April 21 and he replied around lunch time. "It was kind of silly. I had worked on this letter and had people edit for me---a pretty formal letter," she says. "And when he replied he just said 'OK, what do I have to do?' His emails are all really short. His sign-off is 'Peace' every time."
She presented him the space of her exhibition as a performative gesture, thus making her role more of an artist than a curator. Within a day, he sent her a list of things he wanted to do. Soon after, the shipments from Rhode Island started to arrive. "It was like Christmas morning---my roommates and I in the living room when the FedEx guy shows up and opening boxes with presents inside. When the first shipment came, we sat around and had breakfast, watching videos he sent and being really charmed."
The exhibition features three videos, a painting and some collages, all by Franco, as well as Polaroids of the artist feeding a papier-mache James. "I'd say they're all self-portraits. They're very James-centric, very masculine," says Higgins. Franco also sent some props---including a pair of size 9.5 Gucci shoes---to help with a video performance he's asked Higgins to re-enact.
The term "performance" is key when it comes to these pieces; the act of creating is of equal importance to the finished product. For this reason, one of the videos captures Franco "performing" the painting by writing down his weekly activities on canvas with crayons and throwing coffee on it.
She's aware she may be seen as a fangirl, but maintains that isn't the case. "I obviously recognize he's incredibly handsome, but I don't think about that. I didn't really know who he was before finding him on that blog."
And while it's usually the celebrity who's quick to purport their normalcy, here Higgins makes the claim instead: "He's just like me."