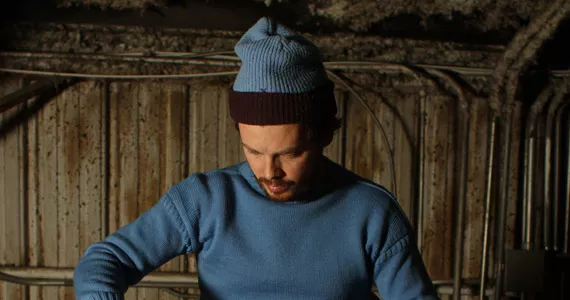 Jay Crocker's last album was recorded in a 10x10 backyard shed. With a background in improvised music, the Calgary producer and musician brought the improvisation to his studio. After having to move out of another studio space, Crocker took a half-built shed in the yard of his new house, finished construction and made the building into a recording studio. In the space, Crocker recorded his album Co-Stars, released in February, and bands including his other groups Ghostkeeper and No More Shapes.
Crocker refers to his solo material as "pseudo-pop." He's active in Calgary's improvised music scene and tries to incorporate that into his poppier material. "I believe that that's where all the sounds are found," he says. The improvisation manifests itself as experimental pop music; he's also recorded noise music and tape collages. "I do a lot more of that stuff than I do pop music," he says. He finds the experimental side more interesting than the pop side: "Every time you pick up an instrument you can find new sounds in it...using a little plastic guitar, putting a contact mic on a vase from Ikea, smashing a cardboard box against the wall..." He calls pop music a "creative source" to bring these other elements into.
"I build a lot of weird electronic instruments," he says. On the road, Crocker takes a "kind of machine" he built for live performances to recreate sounds he gets in the studio. It's a synthesizer of sorts; he also uses tape loops and effects. "One thing that has really inspired me about the shed is to make everything micro while using analogue...I'm trying to bring the smallest amount of stuff that makes the most amount of sound."
Crocker's studio is completely analogue. "There's merit in both processes for sure, I just prefer working in the analogue medium," he says. "I find that I can mould it a little easier. And I don't have to look at a computer screen.
"I think that ultimately if the music gets recorded, that's the most important thing, whether it's digital or analogue. I don't want to be an analogue Nazi---that's just the way I learned."
Jay Crocker w/Jon McKiel
Thursday, March 10
The Paragon Theatre, 2037 Gottingen Street, 10pm
$8