"Sit down!"
As Alpha Yaya Diallo and his band took the Festival Tent stage last night, a few voices rose in anger to scold some late arrivals who'd decided to stand in between the rows of seats, blocking the viewplane of several audience members. One of the reprimanded dudes shrugged, look back at his friends - who were dutifully parking their butts on the damp pavement - and mouthed the word, "why?" He'd soon be vindicated.
If this had been a laid-back performance of jazz standards, the scolders may have had a point. But this was Diallo, the Guinea-born, Vancouver-based guitarist whose West African-flavoured funk yanks you out of your seat by the hips. Two songs into the set, there were more butts shaking in front of the stage than there were in the assembled plastic chairs, the conflict having been emphatically decided in favour of those who, sightlines be damned, just wanted to dance.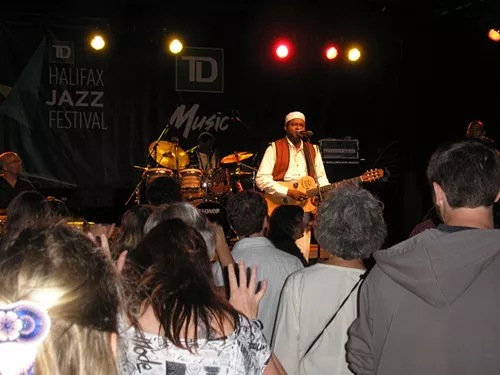 Diallo presides over the dance
Describing what one likes is infinitely more difficult than describing what one doesn't, and Diallo's set certainly left this observer short on words. You don't have to be a world music fan to appreciate his tunes, which are as accessible and danceable to the uninitiated as they are to longtime fans. Diallo's gorgeous melodic lines floated over the rib-shaking grooves locked down by drummer Thomas Ehui Niamke and bassist Emmanuel Pele, while local percussionist Glenn Fraser - a late, unrehearsed addition to the band - added conga spice.
Halifax's Fraser gets in on Diallo's groove
The resulting rave-up made for some excellent people-watching - there were as many different notions of rhythm on display as there were dancers. Credit Diallo for breaking down any self-conscious inhibitions, and for delivering, to these eyes and ears, the highlight show of the festival to this point (an achievement challenged only by Ali Shaheed Muhammad's DJ brilliance last Friday).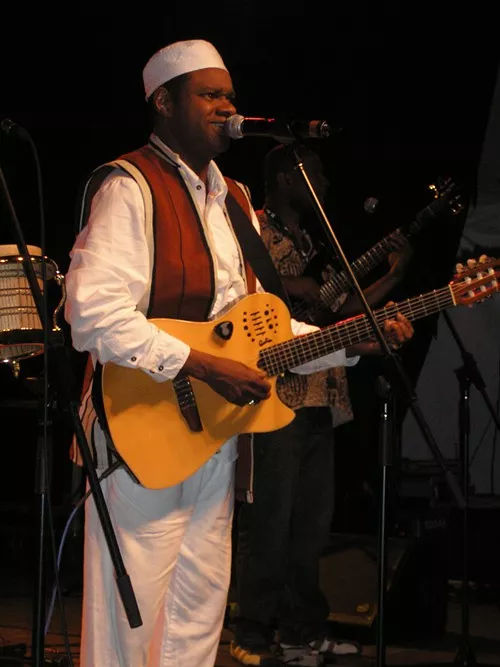 For sheer audience appreciation, though, Chris Church and his band, which opened last night's proceedings, rivalled Diallo and Muhammad. The Halifax-born violinist, who's currently based in New York, led his band on a globetrotting set that featured Arab, Indian and Gaelic influences. The group had been brought together by the CBC, which also recorded the show for a radio broadcast (July 22) and commissioned a couple of the tunes.
When Church and Co. were on, they were breathtaking. Church, vocalist Maryem Tollar, woodwind instrumentalist Ernie Tollar, percussionist Chendy Leon, drummer Tom Roach, bassist Jamie Gatti, pianist Dinuk Wijeratne and tabla player Mayookh Bhaumik made a glorious racket that would have been at home on the soundtrack to a multicultural period epic.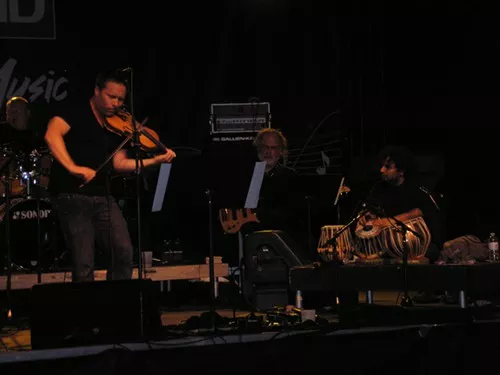 Church (L) delivers a violin sermon
Wijeratne's "Poetry of Squares" was the highlight of the set. The two-part composition began with the pianist on an extended solo run, though the depth of sound he produced was worthy of a full band - rhythmically dense and melodic at the same time. The rest of the band joined in to cap off part two in dramatic fashion.
There were a couple of weak moments, though, both coming when Church added vocal duties to his violin playing. The problem isn't his voice, which is more powerful than one would think from looking at its source, but the lyrics. The cringeworthy words to "I Heard It In a Dream" sounded like they'd been cribbed from a crumpled-up early draft of "We Are the World," while the Hemingway-inspired "Old Man and the Sea" was adult-contemporary pap that belonged in an 80s-style soft-focus video, the kind where a woman in a white dress walks on a beach in slow motion.
Other audience members might beg to differ with these observations, however, having given Church a raucous standing ovation upon the end of the set.
On a completely unrelated note: after four consecutive days of jazzing it up, certain things lose their charm. Number one on that list is the repetition, prior to every big show, of the sponsor shout-outs. Sure, organizers have to kiss the hand that feeds them. But the phrase, "This wouldn't be possible without TD" rings a bit hollow, because if it wasn't TD, it'd be some other sponsor. Probably another bank.