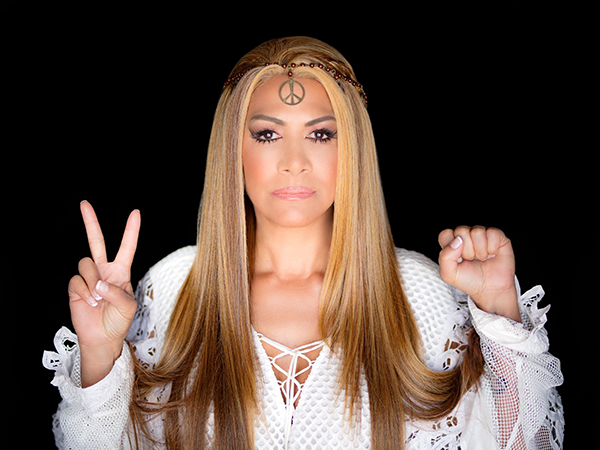 On Friday, this city has a rare chance to see a living legend: The great Sheila E.
Sheila Escovedo, queen of all things percussion, has had more extraordinary experiences in her life than seem possible to fit into her 61 years. From first stepping on stage with her father, famed musician Pete Escovedo, at age five; becoming an accomplished percussionist by age 20; working with George Duke, Diana Ross, Lionel Richie and Santana; touring with Marvin Gaye as a percussionist at age 26; hitting number one on the US dance charts in 1984 with her hit "The Glamorous Life" and living the full '80s decadent rock star life, with stories to match (having lunch at the Eiffel Tower on a whim, for example).
And of course there's the whole Prince deal—Sheila E. was a longtime collaborator with the late musician, and they were also briefly engaged.
But Sheila Escovedo, who will headline the main stage at Jazz Fest, never intended on pursuing music as a young girl, despite musical roots running deep in her family—in addition to her father, there's her uncles Alejandro and Coke Escovedo, and her godfather Tito Puente.
"I didn't know I was going to be an artist or a musician," she says from Los Angeles. "I was an athlete, when I played with my dad at 15 it reminded me of competing at meets. It was a rush. But all I wanted growing up was to be the first girl astronaut and to win a gold medal at the Olympics. That's all I cared about."
That rush of performing live with her father quickly translated into a lifelong passion. "I was a sponge, that one show changed my life. Even my dad knew it, we both cried after the show," she says. "I was shaking, thinking 'This is amazing. I know this is what I'm supposed to do.' You do whatever you have to do through the pain and the process—injuries, heartbreak, whatever it is—I still get to that place, that moment of being able to share this gift."
And Escovedo's had her fair share of pain: After becoming semi-paralyzed from years of physically demanding drumming in high heels, she now drums barefoot. It wasn't an easy shift—"heels are what I'm known for"—but let's be real: What Sheila E. is truly known for is her incredible percussion skills, and dedication to her art.
Dedication was certainly required working in a notoriously male-dominated music industry in the 80s and beyond, in which Sheila E. persevered and thrived due to the support and influence of her family. "In the beginning I didn't know how rare it was for women to play, I thought a lot did. I'd see other women and say 'What's your instrument?' and they'd say 'We don't play!'" she says. "I grew up watching my mom play, and the other lady I'd see was Karen Carpenter. She was an amazing drummer. I'd ask 'How come I don't have a television show like her? I have a brother too.' I looked at her as an equal, and at the same time I didn't realize how rare it was."
And like many women musicians in the 1980s (and let's be real again, today) Sheila E. endured oppression because of her gender.
"I've absolutely experienced sexism, and still do, even at 61, it's crazy. I was often the only woman in these situations, and I was away from home. I had to deal with the advances of men; saying bad, horrible things, giving me their key, advances to the point of 'I'll give you a record deal, I'll produce, I'll give you money,'" she says. "I can't even began to tell you what men have tried to do, I've had to fight them or slap them. But my parents taught me the value of respect, they are my mentors.'"
Her latest album, Iconic: Message 4 America is similarly spirited, made up of covers of songs from the 1960s and '70s, with guests like Ringo Starr and George Clinton. Escovedo chose songs that were meaningful to her and hoped they'd be inspiring to the listener. The effect as a whole is one of protest, revolution and change, which is more relevant now than ever. "As musicians it's our responsibility to bring people together. There's a divide in the world, times are different, but we can change what's happening, that's our message and ministry," she says. "Love and hate can't exist in the same place, so we need to choose love."