The ingredients were all there for a low-energy night at the Halifax Jazz Festival tent. The skies were ominous, the constant drizzle ever threatening to erupt into a full-fledged downpour and gusts of wind crackling the plastic tent covering and knocking sandwich boards to the ground. Viewers of the World Cup final had been drained of energy by a sloppy-but-tense match. And after 48 hours of jazz, Sunday night probably seemed like a logical time to take a breather.
Logical, maybe, but not necessarily wise - as the brave souls who did make their way to the tent can attest. The relatively sparse crowd didn't stop the Darren Sigesmund Sextet and the David Binney Quartet from offering up richly satisfying sets. If one wanted to escape the gloomy evening, all one needed to do was close one's eyes and listen.
Toronto's Sigesmund performed first, the trombonist and composer leading his band - drummer Ethan Ardelli, bassist Jim Vivian, guitarist Reg Schwager, alto saxophonist Luis Deniz, tenor saxophonist Mike Murley and singer Eliana Cuevas - onstage in the twilight.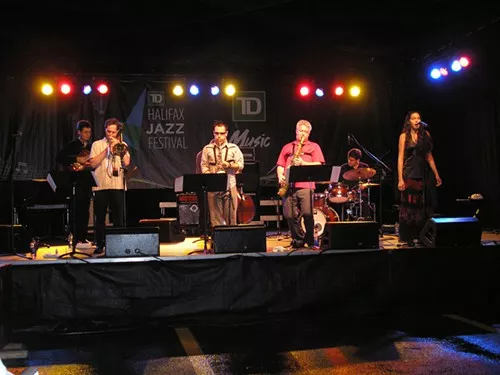 Sigesmund's band in full swing
What's most striking about the Juno-nominated Sigesmund is his generosity as both a composer and performer. His pieces give all the players room to solo, and Sigesmund is happy to stand aside and watch his bandmates shine. For this listener's money, Schwager was the most exciting of the bunch, his nimble fingers skittering effortlessly across the strings. Murley, with his easygoing charisma, was another standout, along with Cuevas, who used her voice like a fourth horn for most of the night but really let rip in Spanish on the set-closing "Sambango."
When Sigesmund's band all played in unison, the sound was warm and full, complex yet accessible. Sigesmund recently won the Galaxie Rising Star Award for Best Composition at the Festival International de Jazz de Montreal for his track "Dance for Leila," and it's easy to understand why he got the nod.
Cool and collected onstage, Sigesmund was beaming afterward, pronouncing his inaugural appearance at the Halifax Jazz Festival a success.
"I thought it was fantastic. It was an amazing audience," he said. "Some of the guys in the band have played in the festival, so I was really looking forward to being here. I really loved it."
Sigesmund (left) toots his own horn
Like Sigesmund, SoCal product Binney is no spotlight hog onstage. Of course, one would have to be nuts to stand in the way of the Dan Weiss Trio - pianist Jacob Sacks, Thomas Morgan on the upright bass and Weiss on the drum kit. Binney's might have been the name on the marquee, but the set really belonged to Weiss, who also played at Stayner's Wharf on Friday night.
Weiss plays with exceptional power, flair, athleticism and spontanaeity, attacking his drum kit from unexpected angles as if discovering each of its pieces drifting by in his stream of consciousness. He traded cheeky little flourishes with Morgan on extended rhythm-section breakdowns and didn't miss a beat when his kick pedal had to be replaced mid-song. Binney was no slouch, either, blasting out squealing, dizzying solos.
The night may have been foreboding, but Sigesmund and Binney made it worth going out in the rain.