Jazz Fest 2010 has featured numerous acts whose connection to the genre is, to be generous, a loose one. Hip-hop, R&B and funk are more like cousins of jazz than siblings. But at least there is a familial bond, some shared musical DNA that links, say, De La Soul and Alex Cuba to Charlie Parker and Miles Davis.
Last night, Boom Pam guitarist-vocalist Uri Brauner Kinrot announced early on in his band's headlining set at the Festival Tent that he had no interest in pretending he belonged to the jazz family.
"We're not going to play jazz tonight," he warned.
Instead, the Tel Aviv trio delivered the crunchiest, heaviest set of the festival so far, a pastiche of surf rock, metal and Middle Eastern melodies and dance rhythms. Oh, and there was tuba. Lots of tuba, as played by Yuval Zolotov.
Boom Pam could have passed for a gag band as they stepped on stage, with their unusual instrumental combination and Kinrot, rocking a white undershirt and a Borat moustache, looking like he'd just rolled out of a hotboxed van where he was cryo-frozen in 1975. But they were no joke. Itamar Levi beat the shit out his drum kit, Kinrot blazed metal-god solos and Zolotov made you wonder why every hard-rock band doesn't have a tuba.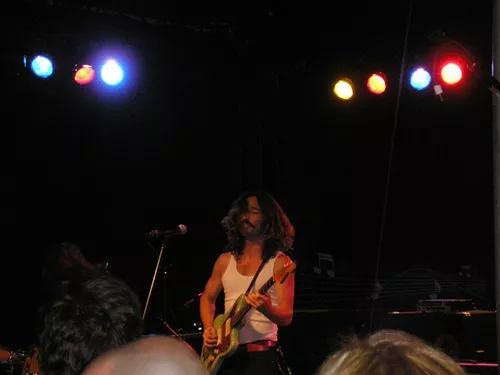 Legend of Kinrot: Man, Musician and Moustache
Kinrot also managed to rhyme "psychopath" with "bubble bath." Which is, for reasons I can't quite articulate, unimpeachably awesome.
Boom Pam's pummeling attack was a stark contrast to openers Gypsophillia. Where the headliners relied on volume, the Halifax group relied on nuance, churning out warped waltzes, bar mitzvah-ready party tunes and throwback swing numbers that would have fit nicely over a Looney Tunes cartoon. At every tempo, Gypsophilia played with clever wit. Their instruments bantered back and forth in good-natured argument, with violin and trumpet providing the high-pitched bombast and guitars and bass serving as the voice of reason.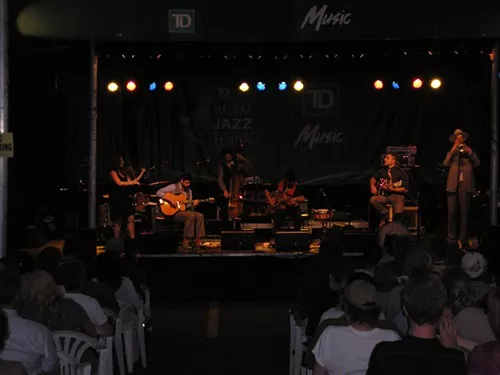 Gypsophilia, wearing their Thursday best
It wasn't quite the dance-fest that CBC Radio host Olga Milosevich predicted, but it was fun nonetheless. And it inspired these guys to do something else with their feet:
Nothing says jazz like a hack session
The Gypsophilia set, like Monday's performance by Chris Church, was recorded by CBC Radio for an upcoming Canada Live program (July 22), so if you missed it, you can catch it next week.