As a very wise fellow listener pointed out during Monday night's Alpha Yaya Diallo show, there's something freeing about listening to lyrics sung in a language other than your own. Without having to focus on the words and their meaning, you're left to appreciate the voice as an instrument and the idiosyncratic rhythms of an unfamiliar tongue.
I was especially mindful of this as I took in Alex Cuba's joyful set at the Jazz Festival tent last night. The Cuban-born, B.C.-based R&B maestro sings in Spanish, so for all my Anglo ears know, he could be babbling about his lovely manly lumps. But it sure sounded good, and his spacious grooves sure moved the assembled crowd.
"When I see people simply enjoying the music, I get excited," Cuba said before the show. "Love is going to come out of me tonight. I love Halifax, I love this place."
Additional words about Cuba's outpouring of love could be forthcoming from a Coast colleague, so I won't say too much more, other than to note that the dude's got some serious Kravitz-meets-Prince style to go with his musical chops. As for those other chops of his, they seem perpetually raised in a smile, unless he's posing for a pic.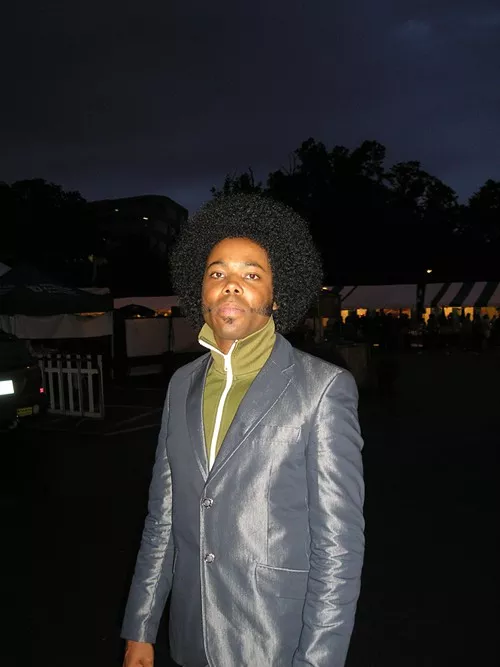 This is Alex Cuba's serious face
Likewise, I'll be brief in describing last night's fantastically unpredictable opening set by local genre-benders Zumbini Circus. With guest rappers , guest dancers and forgotten lyrics, the show had an everything-plus-the-kitchen sink feel. Sure, one of the guests referred to the band as "Zamboni," and drummer Chris Cookson had to read-sing from a sheet of paper on one of the tunes. But as Cookson said to much laughter, "that's okay, it's jazz." Zumbini Circus was there to have fun, and they didn't care if you did or not - which, to my mind, is a major compliment.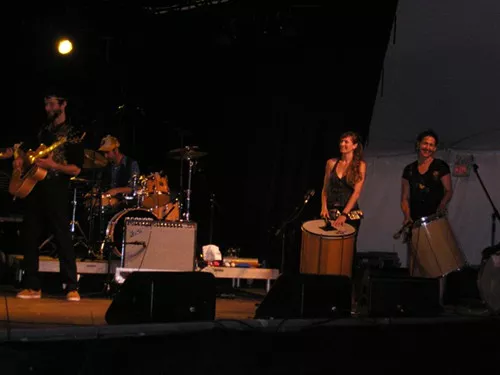 All smiles at the Zumbini Circus
Not so many compliments for Andy Milne's funk-jazz-spoken word combo Dapp Theory, which, to be fair, had to contend with a biblical downpour in a late afternoon time slot yesterday. To be even more fair, I am no fan of the spoken-word form ("irksome," as a friend described the genre in a later conversation), so my criticism should be served with a salt grain of appropriate size.
During the long instrumental sessions, the band was excellent, with Aaron Kruziki's melodic woodwinds and Chris Tordini's graceful bass playing standing out. It was head-nodding stuff, smooth but evocative enough that it didn't require any lyrical navigation. But vocalist John Moon was nevertheless there with a word map, and unfortunately most of the roads were named after simplistic cliches.
Dapper vocalist John Moon has a theory...
Words can be dangerous things for musicians. They can elevate a tune, but also derail it. And they're sometimes hard to remember. Yesterday at the Jazz Festival, the best words were the ones that either escaped understanding or were left unsaid.