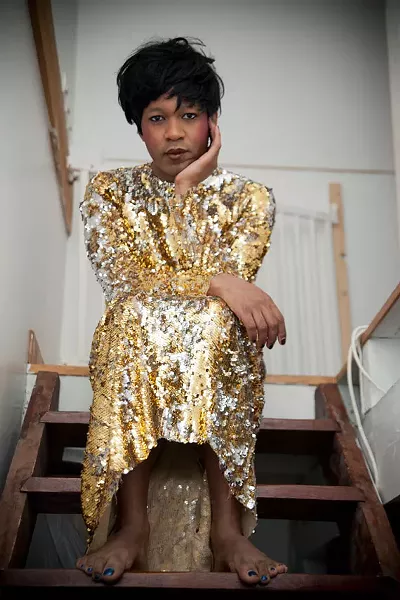 "I'm influenced by things that are glam and weird, one of my friends said Little Richard was a direct impact–even though I've never actively listened to Little Richard, maybe I've been influenced without really knowing. First fixation I had while I was trying to find the 'Jef Barbara look' was Dynasty and Dallas–sequins and padded shoulders. I love Prince, but when people tell me I might be influenced by him, I think well, that's only superficial, Prince also happens to be black and a singer."
Jef Barbara is speaking on the phone from Montreal, where he's graciously dealing with a massive toothache.
He also discusses a curious case of an a internet doppleganger: "Jef Barabara" whose profile picture seems to mimic the Montreal crooner.
While his look is quite distinct, the Jef Barbara sound can't be copied that easily. His music spans multiple genres–art and punk and electronic. And this month, he's coming to Halifax. "I'm really excited to visit the Maritimes. It's going to be my first time. It's strange but I don't really know Canada," says Barbara, whose touring schedule has mainly been focused on Europe through his first label, Prague's AMDISCS.
In Montreal, Barbara plays with Jackson MacIntosh, Asaël Robitaille and Pascale Mercier, but at times, his band is fluid–for example some upcoming New York City shows will feature Meshell Ndegeocello on bass.
"I'm super stoked about OBEY, getting to open for Le1f is going to be a milestone," he says. "Getting to touch base with fellow black queer alumni–I don't get to do that very often. In Canada the music scene is very white male dominated."
Listeners who strayed from Canada's white male heteronormative music glut were richly rewarded with Barbara's latest, Soft to the Touch. Confidential lyricism over glam-psych instrumentation, and tracks like "About Singers" and "Technic is Fun" would fit cozily beside Roxy Music on a playlist. "Chords" features a duet with Stereolab's Laetitia Sadier, and duets in general are something Barbara says he enjoys "a bit too much."
But more collaboration isn't in the cards for Barbara for his next album. "I'd love to, although I don't feel like I'm headed to that direction for my next project. I see myself as doing something more concept based," he says. "The idea I have when I think of a duet is Peter Gabriel with Kate Bush–that idea we have of very commercial mainstream music.
"I see Soft to the Touch as an album that I would have gotten an artist to make if I was an A&R person in the late '70s, early '80s."
His next album is headed in a "conceptual direction. A bit more narrative, but a constant narrative. I've been using food lately as a writing theme, it's just a recurring thing I find in all the songs I've written in the past year–used as multi-layered imagery in lyrics."
Self-direction is a big part of Jef Barbara's creative expression, having wrung all he could out of the theatre world before reconnecting with music. Through a friend, Barbara started performing with a theatre troupe a few years back. "I did 15 plays over three years, after that, I wanted to reconnect with music and branch out. I saw the limitations that theatre had. One is always being subjected to how people see them. I saw music as a medium where I could call my own shots and be the director," he says. "I made a very clear-minded decision to stop doing theatre. Especially when you don't have a standard casting type, it's harder to be considered for more interesting roles, and I'm not interested in that, I want to call my own shots."
---
Saturday, May 24 at 9:30pm
Reflections