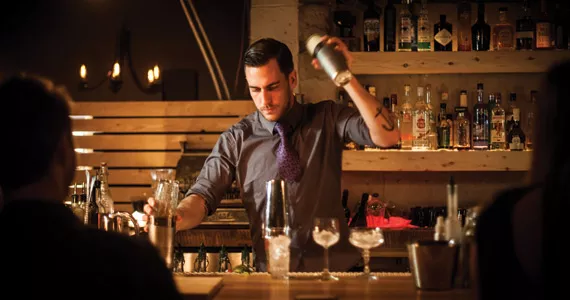 photo by RIley Smith
Jenner Cormier is the champion, my friends
Raise your glasses Halifax (if there was ever a time to use that cliche, it is now) or at the very least, spike that coffee—your very own Jenner Cormier has been crowned Canada's Best Bartender of 2013. This week the mix master behind the bar at The Middle Spoon and Noble travelled to Toronto for a national shakedown otherwise known as the Diageo World Class Canada, to compete against nine of the best in the country (including, also, your very own Best of Food winner Jeffrey Van Horne).
Last night at the Sen5es Cafe and Restaurant , Cormier reigned supreme, winning not only the Bartender of the Year title but also the rights to compete in the Global Finale, while sailing on the French Riviera in July...NBD. Major congrats to both Jeffrey and Jenner. You've done us proud!