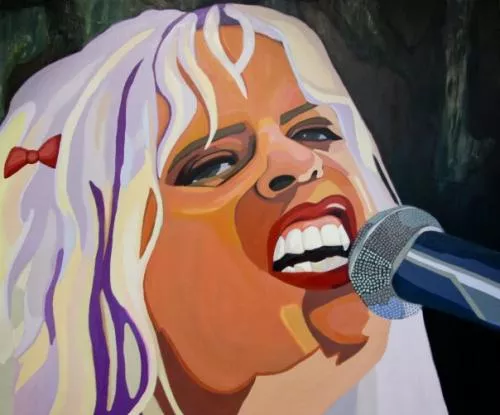 Kat Bjelland by Jennie Philpott
It doesn't get much more trad than portrait paintings of women, unless you are NSCAD student Jennie Philpott and your series of oil paintings is a tribute to female underground singers. It's a kickass twist on two male-dominated art forms.
Danyell DeVille (of Hamilton punk band Pantychrist) growls right off a candy-coloured canvas, mic clutched in hand. Theo Kogan from the Lunchicks looks positively maniacal against a background of teenage pinks and purples. The portraits, which show theses ladies doing what they do best—-performing—-also includes Kat Bjelland (Babes in Toyland) and Mel Mongeon (Fuck the Facts), with a taut vein straining against her neck.
Philpott's first solo show, The Modern Day F-Word, opens Monday, 5:30pm at Anna Leonowens Gallery, running until January 16