Joe Satriani: Satchurated in 3D
Rated NR 89 min. 2012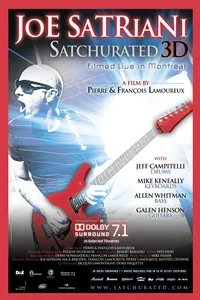 "Satchurated" was filmed live on "The Wormhole Tour" in support of Satriani's new album "Black Swans And Wormhole Wizards" at the Metropolis in Montreal, Canada on December 12th of 2010. The film is directed by award-winning filmmakers François and Pierre Lamoureux and produced by Cinemusica and Fogolabs. "Satchurated" will be the first 3D theatrical concert film release with 7.1 Dolby Surround Sound for the ultimate cinematic experience.
Film Credits
Official Site: www.Satchurated.com
Director: Pierre Lamoureux and Francois Lamoureux
Producer: Pierre Lamoureux and Francois Lamoureux
Cast: Joe Satriani
Show Times
Sorry there are no upcoming showtimes for Joe Satriani: Satchurated
xxx - Deprecated in favor of GTM, above.