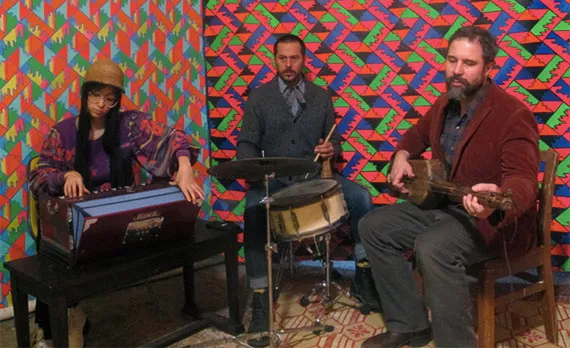 Joshua Abrams and the Natural Information Society
On Saturday night, Halifax will be treated to one of Chicago's most interesting film composers and jazz multi-instrumentalists. Joshua Abrams makes music that is challenging, accessible and it rings in tune with the body.
For over 15 years, Abrams has been creating worlds within worlds. Since 2010, he performs with a rotating ensemble called the Natural Information Society. It will be a trio at the OBEY gig at Deep Water Church, rounded out by Lisa Alvarado (harmonium) and Mikel Avery (drums), playing from Abrams' third instrumental album, magnetoception.
Abrams himself will play on a range of instruments including the guimbri, "a three-stringed lute native to the Gnawa people of Morocco," he explains. "It's used in healing rituals as well as secular music. It combines a rich bass tone produced by striking gut strings with a percussive aspect produced by hitting the skin of the instrument at the exact same moment that one strikes a pitch. In a sense, it's the original 808. It's also a very vocal instrument."
With such instruments, his music takes on a global quality, but his largest influence is the Windy City. "Chicago has a colossal music history," he says. "Many of my great mentors I met there, like Fred Anderson, Hamid Drake, Jeff Parker. There is a very particular vibration to Chicago, well worth a visit."