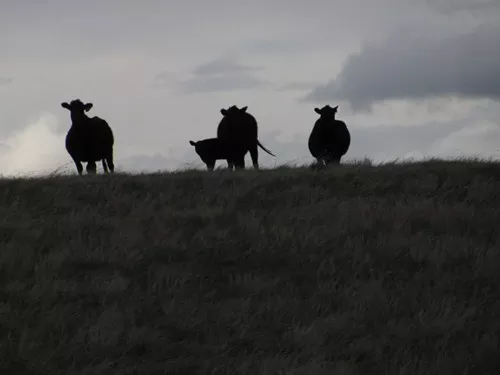 Not just the cows, but most creatures I pass cannot believe their eyes—that some lunatic is walking. Horses here are beautiful, and mostly they come as close to me as they can, and once I feed two of them some of my bagged peeled baby carrots. They come for a look and then they scamper away, tails high, manes in the wind. And stop and look again. One the morning about 28 antelope are in a field near me, and as I creep closer, they stop eating to watch, and then most of them stampede off to a far hillside. Five stay behind to watch me, and they don't move for as long as I can see them.
Day One May 1
Helena to Wolf Creek Bridge, Montana 21.1 miles (33.96kms)
Violent wind. Some hard slogging and end up, despite research, nose for navigation, etc., on I 15, the only way to get over the hills. Somewhere along the way a woman named Julie Hayes stops and gave me a lift to where I will be off the Interstate, 16 miles, so I travel 37 miles in the day and camp on the Missouri where the Little Prickly Pear Creek enters it. The creek was once named Ordway Creek, for John Ordway, Lewis & Clark's first sergeant. Guys out on the river fishing for trout. Later, out for a pee and the sky jammed with stars.
Day Two May 2
Wolf Creek Bridge to Mountain Palace, Montana 18.4 miles (29.61 kms)
It is so lovely to be along the Missouri River. Thousands of Canada Geese. Pelicans. Very handsome magpies. The river meanders through canyons.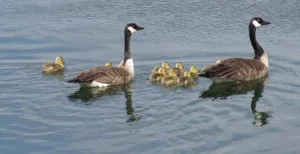 Day 2
Canada Geese on the Missouri River
Day Three May 3
Mountain Palace to S of Ulm, Montana 22.4 miles (36.05 kms)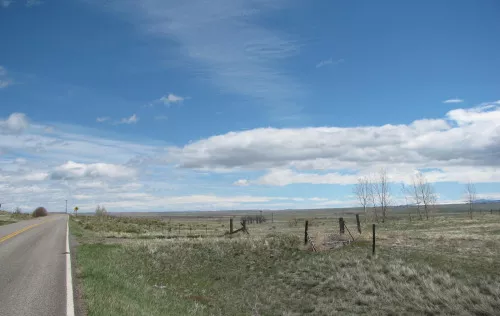 It is lovely in the morning but the sky turns dark and the wind really picks up. Through the hamlet of Cascade where a Neighbourhood Watch sign says something like we call the cops pronto if you look strange and sure enough, in wind and rain and snow, a few miles down the way, a white truck turns on its blue and red flashing lights and pulls over and the officer says, "Where ya headed?" I say, "Canada." He makes a face that says, oh yeah, those crazy Canucks and I can see he doesn't care any more. I slog on, getting tired and finally ask at a farm house for a spot in a corner for my tent and thank the Christ Mr. Nice Guy Farmer says yes. The wind is frantic and I'm here to tell you that free-standing tents are fantastic, except in the wind, and then they want to sail away before you can stake them to the ground. It is freezing. I feel so lucky, in my tent, as the wind screams and I munch on my Tiger's Milk bar.
Day Four May 4
S of Ulm to Great Falls, Montana 11.8 miles (18.99 kms)
The wind howls like a freight train all night. In the morning it is still wild and as I pack up at about 6:30, it feels nuts. Mr. Nice Guy Farmer is at his mail box so I go over and ask if I can stay a while longer and he says sure so I unpack my sleeping bag and get back in the tent until a little after nine and then do pack up. The wind continues to be really strong. It snows and I decide that Great Falls will be the promised land of accomodation for me and I make it into a room by 2:30—lots of time to enjoy it—with wifi and tv and soap that smells like limes and all these white towels! I have a 45 minute shower and my stuff is unpacked and all over the place and I feel so lucky to be inside, and I can do laundry too. And also happy I will be on my way tomorrow: the modern amenities are so fine and lovely; I feel stronger with every sip of room-provided bad coffee, but the view reminds me of what I don't so much want to see. Attractive, yet not what I am looking for: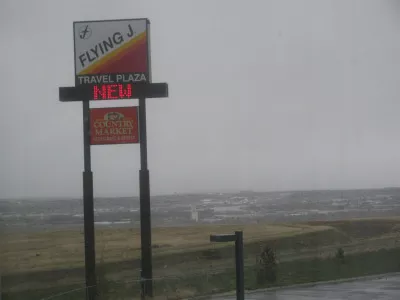 Day 4
View from Crystal Inn, Great Falls