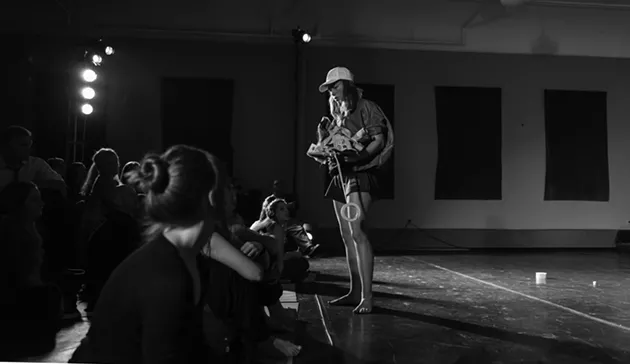 Short and Sweet: 25 Dances that End Quickly Tuesday, November 22, 8pm The Seahorse Tavern, 2037 Gottingen Street $15 in advance, $20 at the door
Jacinte Armstrong says Kinetic Studio is about bringing Halifax artists together through dance.
Armstrong hopes the interdisciplinary approach to her upcoming show–Short and Sweet: 25 Dances that End Quickly–will make dance more accessible to both artists and audiences.
This is the second year for the local show, which was inspired by the Short and Sweet showcases by Montreal-based co-directors Andrew Tay and Sasha Kleinplat.
"They started this series of performances as a way to stimulate people's ideas and shake up how they were making work," says Armstrong.
Short and Sweet is slated to kick off Kinetic Studio's season.
The pieces in the show are all brand-new, created specifically for the performance. They range from straight-forward dances to more experimental approaches.
"There's a lot of juxtaposition," says Armstrong. "You might have a dancer doing a series of movements and another person talking or telling a story… The dancing, in some ways, makes sense to what you're hearing in the story. In other ways, it doesn't make sense at all."
In other words, it's up to the audience to make sense of the aspects of the performance.
Each piece will be just three minutes long. And when they say three minutes, they mean it—if anyone goes overtime, the lights are off and the sound is out.
"The challenge is paring it down to what you're gonna do with your three minutes," says Armstrong. "You can't do everything you wanted, but maybe you can do something more deeply."