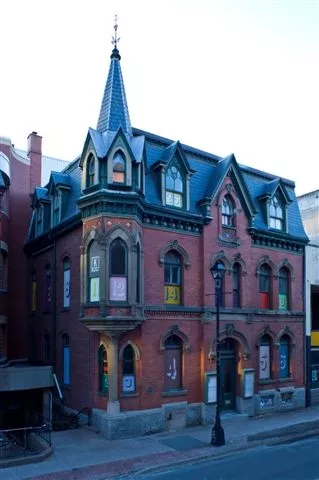 A couple of good things happened Wednesday at the two public info sessions dedicated to the future of the Khyber building (1588 Barrington) as an artist-run centre:
1. Everyone was in the same room, hearing the same information from TCI Management Consultants, who prepared the feasibility study, HRM staff and Khyber board members, past and present. City staffers cleared up a few points, as did old Khyber supporters from back in the day who could clarify historical points. The Khyber's history is a bit like following the Old Testament. Maybe we need one of those sea-parting miracles now.
2. Khyber events coordinator Jody Zinner brought up the issue about the terrible photos inside the consultants' report, asking them to balance out photos of debris and graffiti with more appropriate and accurate photographs of events, the ballroom gallery, etc. It was clear that initially, the consultant seemed to think it was an "artists" thing until a few people brought up the point that evil, evil "graffiti" was one of the reasons that council closed down the Khyber Club space in the first place. If this is a document that council will be using as an aid to make their decision—and its clear that many of them have never been inside the building—then it should reflect all of the centre's activities.
3. Regardless of which of the five scenarios is selected, realistically it will cost $600,000-$1-million to bring the heritage building up to standards, in terms of accessibility and usability. The majority of the cost will go towards construction of an elevator and second set of stairs. However, during the meeting several people brought up alternative locations and possibilities for the elevator, based on original plans from back in the day, which could potentially reduce that cost and hopefully disruption to art activity during the renovations (it hasn't been decided yet if the gallery would have to move to another location during the construction). At this point the consultants haven't been concerned with physical design, just costs and benefits. Speaking of which, I am also curious as to why there hasn't been a peep out of Heritage Trust about these renovations. They have an OFFICE in the space. Ahem.
4. The costs in the report assume an average $20/sq.ft rental fee on Barrington. As Zinner astutely pointed out, this high cost does not reflect the street's current situation, but rather a cost of doing business on a hopefully revitalized Barrington.
Here are the five scenarios (six including a bonus). Keep in mind that regardless of outcome, the capital cost renovations need to happen.
A-HRM sells the building to Khyber Arts Society, with a buy-back clause. This is almost a break-even scenario for the city as HRM would provide subsidies to KAS for fulfilling a public service, i.e. free gallery space, art education, but would not be dealing with day-to-day costs.
B-HRM owns, but KAS operates the building. KAS receives rent subsidies; opportunity costs to the city (aprx. $100,000-$130,000)
C-HRM owns, KAS is sole tenant but can sublet; opportunity costs to the city (aprx. $100,000)
D-HRM owns, KAS is one of several tenants; opportunity costs to the city (aprx. $100,000)
E-HRM owns, leases to another organization to manage; KAS may/may not remain in the building; opportunity costs to the city (aprx. $130,000)
Not included in the report...a scenario that could happen.
F-City council decides to sell building as commercial office space; cost is eliminating the only cultural activities space left on Barrington. It's clear that there are dedicated HRM staffers working hard with KAS staff to keep this as an arts space, but ultimately it's up to council to decide.
Each one of these scenarios has its own set of risks and benefits, which you can find here, in the report. On this page there is also a link to an online survey. Read the report, then fill out the survey by January 8 (it's quick, I promise). These results will feed into the final report that is presented to council.
If you want to support the Khyber in a fun way, don't forget about Holiday Toast, the KAS/Eyelevel fundraiser, this weekend. The fun starts at 8pm, tickets are $10. For art collectors this is a must, as there will be items for sale by artists like David Askevold, Sherry Boyle, Daniel Barrows, Gerald Ferguson, Garry Kennedy, Alan Sondheim, Lawrence Wienger, Kelly Mark, UJERK5 (Jeff Wall, Rodney Grahame), Bruce Barber, Colleen Wolstenholme, Andrew Forester, John Greer and many more.