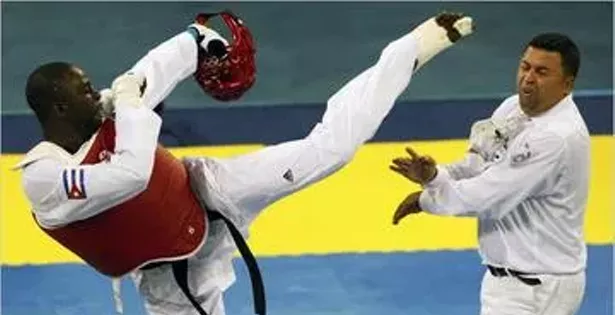 The Olympics end on a hilariously sad and pathetic note when Cuba's Angel Matos deliberately kicked a referee smack in the face after he was disqualified in a bronze-medal match, for taking too much injury time. He got pissed, pushed a judge, THEN pushed and kicked referee Chakir Chelbat, from Sweden. THEN Matos spat on the floor and was escorted out. I know this isn't funny at all, but it's just so ridiculous.
But man, I wish I could kick that high. Not to hurt someone, but because I always look so dorky pretending to high kick, which I do a lot. Looks like Matos, who's obviously now banned from the game, will be doing a lot of invisible kicking himself.
There's no video, but plenty of YouTube slide shows:
Now, I know that the worst thing that Harper did with the arts cuts was to transfer those funds over to the Olympic games, but when was the last time you saw an artist roundhouse a curator?