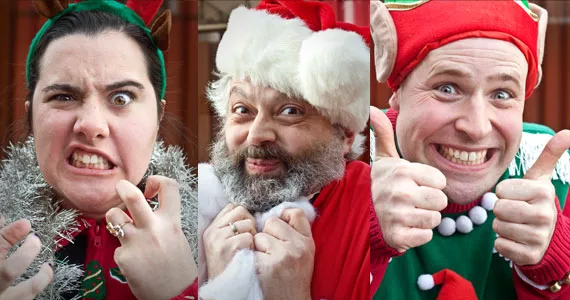 Ashley Marie Pike
Haul out the smokes, it's Christmas.
David Sedaris' Uncomfortable Christmas Holiday Fun Time Hour!
The Waiting Room, 6040 Almon Street
To December 18
$15/$20
As a break from the typically sentimental Christmas fare, Kick at the Dark Theatre is offering some dark holiday humour with performances of stories written by funny-guy David Sedaris. In its third production, the company is taking three monologues from Sedaris' story collection Holidays on Ice and adding some musical segments for an old fashioned holiday special.
"The night evokes the variety show hour that often gets done at Christmas," says producer and co-director Andrew Chandler. "There are a lot of things coming at you and I pretty much guarantee you're going to laugh and feel a bit more Christmassy."
Chandler is directing two of the monologues, featuring Jamie Bradley and Katerina Bakolias, and is performing the role of a merciless theatre critic in the other.
"I play a theatre reviewer who has gone to the local elementary schools to see their Christmas pageants and writes a scathing review of his terrible experience," says Chandler. "The show really points out how all the extremes that people reach at the holidays in the name of Christmastime."
In keeping with the less Grinchy Christmas spirit, Kick at the Dark has partnered with Good Robot and is offering $5 pints to ticket holders on the day of their shows.
"We are also taking donations for Adsum House and are going to offer pay what you can tickets to the NSTU and the Typographical Union if they want to come to the first weekend," Chandler says. "With the state of the world today and everything that's going on, there is a lot of power in speaking truth to those powers when they are ridiculous. In these monologues, the three characters are taking power and revelling in it, and I think our ability to laugh at them is important politically and also to the Christmas season."