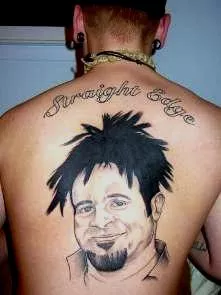 glad to see harold mckay isn't the only one making bad decisions

You know what's really awesome about blogging for Scene and Heard? I still get excited when the city is buzzing with those "OH, here comes a big crazy concert!" announcements. And two days/weeks/months later, there's the inevitable; "Actually, we lied! Concert canceled! Haha ya dummy!" I should know better now. I know, I should.
As most of you know by now, the plug has been pulled on the Friday July 23 concert for Halifax Rocks. My feelings on the headliner Kid Rock have been adequately documented and I will say that I am not unhappy at this recent turn of events. It will be nice to not have to race out of the city to the furthest possible point away from the source of the sound (I had been considering Newfoundland.)
As of this writing, Power Promotional Events hasn't given much (or any) indication as to why this happened and I don't know enough about concert promotion to speculate (word on the street is "scheduling problems"), but as much as I rejoice that Kid Rock's annihilating good ol' boy mediocrity won't be stanking up the Common this year, I'm anxious that Halifax is developing a reputation as a city that continually puts money into shitty entertainment and cancels concerts on a whim. Please do not get me wrong; I love Halifax in the summer. It is the best place - there is nowhere I'd rather be. However, a lot of people I know make fun of Toronto and Calgary pretty regularly, and I think it merits pointing out that Toronto had Iggy Pop and the New York Dolls play in public squares for free this summer, while Calgary recently pulled off one of the best Canadian festival lineups I've seen in ages. In the summer. This is the time of year when similar things should be happening in Halifax. Why the hell can't we do that? RIGHT NOW?
Now that those bad vibes have been expunged - hey! Who's going to De La Soul?