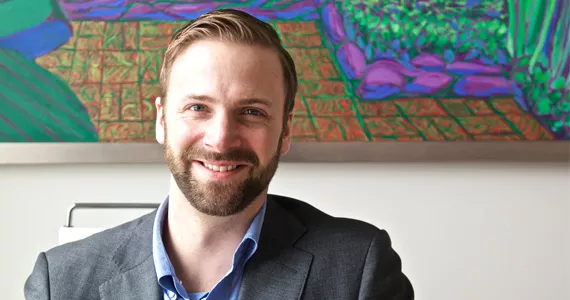 Jessica Emin
Chris Killam
What made you specialize in condos?
I believe in the downtown. I like to be in walking distance of stuff, and I like to be in the action to a certain degree—whether or not I'm participating it's just nice to be there. But, I think the city needs to have more focus on the downtown core, I think that there's a draw for younger people, not necessarily students, to be downtown and go out and be able to see each other.
Have you ever seen the documentary called The Human Scale?
It's about a guy who's been researching cities since the '60s and his big thing is getting rid of traffic corridors and turning them into walking spaces. They believe they've influenced peoples' life satisfaction in a measurable way by creating more walking corridors and providing more density. People who are able to walk to work and walk to meet up with friends are more likely to run into people on the street, which builds more community, which builds greater life satisfaction.
Why should people who are looking to buy a home consider a condo?
Condos are really handy for those who are too busy to do exterior maintenance and that kind of stuff—with your condo fees they cover all garbage removal, snow removal and you'd have a reserve fund for windows, roofing and that sort of thing. So everything in your condo from the doors and the windows in is yours, and everything outside that is the condo's. You don't wind up shovelling, but you also don't wind up having to re-caulk your windows every five years.
The other interesting thing is that it's kind of like a small community, you get to know your neighbours in a different way. But I think the number one reason people prefer condos is that they're turn the key and walk away. You don't have to worry about going away on vacation—if you're in Bishop's Landing they'll water your plants and take your mail inside. That's kind of a big bonus.
Is it possible to make your money back on a condo resale?
I think it depends on the building, which ultimately comes down to location. With condos there are two components to location—there's physical location, or geographical location in the city and there's also physical location in the building. My suggestion is, depending on where you are, if there are two condos that look the same and one has a better view, or one is a corner unit—or say there's one that has a lesser view but nicer finishes, versus one that's higher in the building or a corner, you can't change that about it but you can change the finishes. You can pick away at it over time, swap the appliances out one year, change the handles on all your cabinetry—at the end of the day you'll have a better opportunity for resale.
How can people help their condo retain its value?
It depends on if you're retaining value or growing value. Up and around central Halifax north end, I think that EDNA and Field Guide have pushed the value of the Brickyard and the Falkland condos up. There are now a couple of gathering places in walking diastance of those places. I think that if you look at Maynard Street, with Harris East and Q Lofts, right around the corner you have enVie, Local Source, Lion & Bright and the Brasserie…those things all add major value to those condos. And those condos, by virtue of being brand new and close to each other, raise the value of the neighbourhood. In a growing neighbourhood you see growing value. So, looking for a growing part of the city is valuable, which is similar to regular real estate I suppose.
A realtor with Red Door,
Chris Killam
is an expert in Halifax's condo real estate market and the man behind The Condo Company.
902-830-7556, condo-company.ca