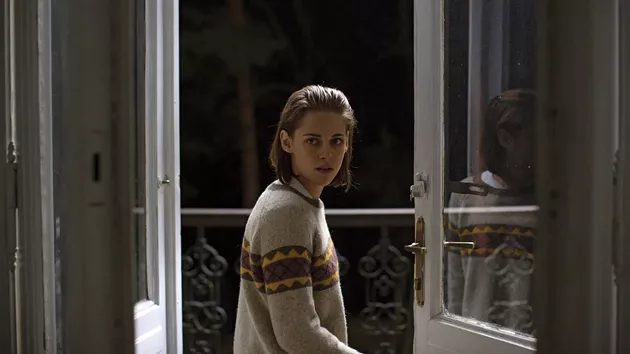 via IMDB
Stewart plays Maureen, the (you guessed it) personal shopper, who is trying to connect with her late twin brother in the afterworld.
So much has been written of Kristen Stewart since her Twilight era began in 2008: She slumps! She's sullen! She looks like she hates the red carpet! Fuck her, Edward is mine! Even though she starred alongside a similarly dour, similarly slumpy man clearly just as unhappily stuck in a Hollywood-engineered romance. Even though she carried a $3.3 billion franchise on those supposedly sagging shoulders. In the years since, Robert Pattinson has proven himself an OK-enough actor in whatever movies. But Stewart has quietly ascended into a leading talent of her generation—and that generation includes both Fannings, Emma Watson, Emma Stone and Jennifer Lawrence—and amassed an impressive slate of interesting films directed by the likes of Floria Sigismondi, Kelly Reichardt, Greg Mottola, Walter Salles and Ang Lee. The French director Oliver Assayas sees her best, and with the most care. In
Clouds of Sils Maria
, he bet she could be a worthy opponent to Juliette Binoche, and won. In
Personal Shopper
, he gives her almost no one to play against, and certainly no one of Binochian grade. As Maureen, she's grieving the sudden death of her twin brother and trying to connect with him the afterworld, while working in Paris as an assistant to a socialite. She spends her days in first-class lounges and the best stores in Europe, and her nights in an empty house waiting for a ghost. (One does show—CGI shoved into a French art-house film is quite jarring.) She starts receiving ominous anonymous texts. Is it her brother? There aren't enough people in the movie to be suspects. Assayas often centres Stewart, lithe and blank, in the middle of casually elegant scenes. You can't take your eyes off her. And you shouldn't, ever again.