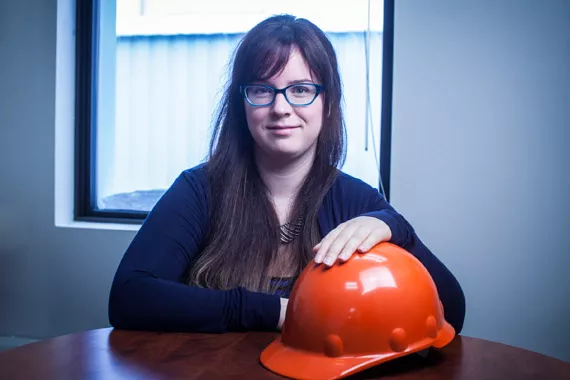 Riley Smith
Unifor member Suzanne MacNeil saw a lot of "get-up-and-go" at the Canadian Labour Congress's election-readiness conference.
Avid players of the blood sport that is politics are busy preparing for the campaign leading to the next federal election, a voting day that's still months away.
Not all are platitude-spouting candidates or party strategists. But each crew—every clique in our political system—has this in common: an agenda. Many business interests, lobby groups, social justice organizations and the other levels of government want to join the game, or at least exert some sort of influence prior to the election.
And let's not forget Canada's labour movement. This particular group is never far from the front lines of political campaigning.
A case in point: on the final weekend of the first month of the new year, more than 100 union members gathered at a Dartmouth hotel to begin the task of trying to get their concerns addressed on the campaign trail.
The event was one of several election-readiness sessions the Canadian Labour Congress will be hosting across the country in the first three months of 2015.
"There was a lot of energy [among unionists] in the workshops and in the rooms," delegate Suzanne MacNeil said days after the Dartmouth conference. "People are pretty concerned about some of the issues, like finding affordable child care."
MacNeil, a Halifax resident and member of Unifor, helped lead a workshop on engaging young workers, and she attended other meetings. It was apparent to her there was considerable "get-up-and-go" among the attendees.
The election is to take place in October, or earlier, but some observers have said x-marking day could happen shortly after the ruling Conservatives present their budget this spring.
Finance minister Joe Oliver has said he won't show us the money earlier than April. Elections Canada officials, meanwhile, have issued a tender for thousands of multimedia kits needed for this winter to meet a "readiness date" of March 1, the Ottawa Citizen reported in December. "Even if we don't know the exact time or date," MacNeil said, "we know that it is going to be this year. And it's up to us to get things on the go early, I think."
Election timing, of course, is everything.
Prime minister Stephen Harper insists we will cast ballots on the non-binding, fixed election date of October 19. However, suspended senator Mike Duffy's criminal trial is to start April 7 and last 41 days, lawyers agreed last year. Court testimony, which could be of the bombshell variety, will not be helpful to the prime minister.
Spring or fall, big labour must prepare for the big contest.   
The election-preparation events put on by the labour congress are essentially in-house meetings that have clear goals, says promotional material available online. They're open to union members, at no charge, and closed to the press.
"Our plan is to bring together seasoned campaigners and new activists from a wide range of communities and workplaces to share the experience they have while learning the latest and best practices for effective campaigning," the CLC's promotional blurb says. "Our goal is to show them how to take on the negative, powerful politics of greed and deliver a win for fairness."  
Hassan Yussuff, president of the labour congress, is a former auto industry worker who's been active on the union front for many years, both nationally and internationally. His umbrella organization represents about 3.3 million Canadian workers, and it believes the country is being steered in the wrong direction.
"We want to elect a new government that shares our vision for Canada," Yussuff tells The Coast via email. "That means talking with union members about the issues they care about and working with our members to get out the vote." Workshops listed for the conference in Dartmouth included "building allies locally" and using social media for campaigning.
Yussuff said many unionists "say they feel despair" about their own future. "We all worry that despair and fear about the future discourages people from getting out to vote."
He acknowledged the labour congress has "a vested interest in doing everything we can to elect a government that will advance workers rights." But Yussuff said that doesn't mean delegates at these election-related boot camps will be urged to vote for the union-friendly NDP.
The CLC and federal New Democrats are bosom buddies that have had a strong partnership for decades. The NDP was formed in 1961 in Ottawa following the merger of its forerunner, the Co-operative Commonwealth Federation, and the labour congress.
"We can't tell delegates who to vote for," Yussuff stresses in his email. "That's something they will decide for themselves."
In Nova Scotia, there are 11 federal electoral constituencies. The Conservatives and Liberals each hold four districts; the New Democratic Party represents three.
Last month, a Halifax polling firm released results of a November survey of 1,500 Atlantic Canadian voters that showed the federal Grits have a wide lead across the region. More than half of decided voters (55 percent) support the Liberals, about one-quarter (26 percent) back the Tories and 16 percent support the NDP.
The results are "grim news" for the New Democrats, a political science professor at Cape Breton University says.
"These polling numbers are quite consistent with other polling results from across Atlantic Canada over the past year," David Johnson writes in an email. "With such dismal numbers in [the region], the NDP's hopes of holding on to Official Opposition status will likely be dashed."
All this means Yussuff and the CLC's autonomous, affiliated unions may be hanging on to a hope of their own, with respect to potentially overcoming the "powerful politics of greed."
They'd like delegates at their election-preparation sessions to leave such get-togethers "having learned from each other, and feeling optimistic and equipped to talk in a hopeful way about the Canada they want and [with] ...realistic ways to take on these challenges and get there," he says.
There is an old union anthem that asks: "Which side are you on?" It's evident which side the labour movement will be backing in the next battle for Parliament Hill.
What's not so clear: Will our new government be pushing past the talking points and listening to trade unionists after the election?