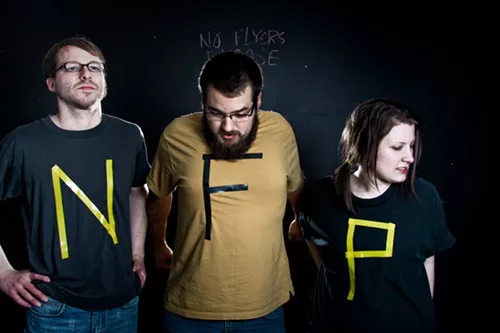 It is totally misleading to "introduce" No Flyers Please, since they've been active in Halifax, on and off, for about four years. The group first got together when high school pals Isaac Hansen (bass) and Michelle Skelding (drums) decided to form a band. They put a post on Halifaxlocals.com and Dale Boudreau (a guitarist you may also recognize from such bands as Myles Deck and the Fuzz) responded. After practicing for four months, the trio were ready for Rockin' 4 Dollar$ - but still didn't have a name. Their eyes flew to Hansen's mailbox, and No Flyers Please was now in action.
During an amicable six-month hiatus, the band was asked to play a fundraiser for the IWK. In an added incentive, the band's friend and "number one fan" Taylor Porter pledged $100 for the show on the sole condition that No Flyers Please would re-unite and play. (Porter also funded the band's most recent EP - they paid him back after their EP release show last summer.)They have remained together ever since.
Once you see NFP live, it's fairly easy to see why they inspire such devotion — they are so so fucking fun. Think high-energy, slightly gonzo dance-punk with endlessly shoutable vocals. Most of their shows usually result in dance-offs for cash and EPs and doffed clothing. It's kinda like what would happen if Jello Biafra started hanging out with Devo, stole the Gang of Four's rhythm section and began writing songs about soccer players and conspiracy theories.
"We have a lot of fun onstage, and I think the crowd feeds off that," Boudreau says. If they win the Battle to Warped Tour tonight, a lot more people will soon be understanding what that means. If they don't, lots of other things are on the horizon, including a tour with the Scoop Outs. They play Gus' Pub this Saturday with Green Reflectors, Tongan Death Grip and Nerd Army.

Battle to Warped Tour Final Round is TONIGHT at the Seahorse, featuring NFP, Audrey and the Agents, We're Doomed and two wild-card bands. It's free and begins at 10pm.