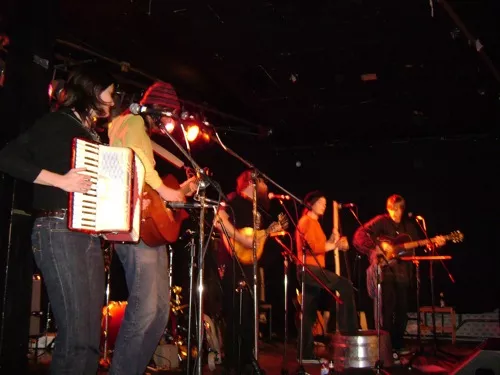 I went to Lake of Stew partly because I wanted to congratulate them. This summer when we were in Montreal on vacation, the six-piece acoustic string act was the centre of a giant controversy: the band was asked to play as part of a Saint-Jean-Baptiste Day celebration, L'Autre St-Jean, which was supposed to be a more inclusive version of the traditional party. But then the bluegrass band was told they couldn't play because a sponsor threatened to pull out if they played, over fear of violence and demonstrations. You see, Lake of Stew sings in English. sigh...Amid public outcry, the band was finally allowed back on (along with Bloodshot Bill) but was heckled by small group of sovereignists.
Honestly, it's hard to imagine anyone getting angry over Lake of Stew: these guys are the ideal crowd-pleasing festival band. They'd be great in a 4am basement or on a sunny afternoon. Although it was only 12:30am, it felt like we had been transported to some small one-bar town out of a David Lynch film. Couples were slow-dancing (I bet that didn't happen anywhere else at HPX), including a cowboy and his gorgeous girlfriend, the audience was speaking French, and then, out of nowhere, Waldo showed up. We weren't sure if the guy was wearing some sort of offbeat lumberjack outfit, or if he was Waldo, but then he started dodging in and out between people. That's when we realized he WAS Waldo.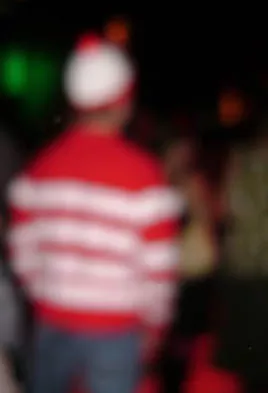 That Waldo's so hard to find he goes blurry
And then we saw Tom Cruise from Top Gun, and a wobbly Ellen DeGeneres and figured out that Halloween had just arrived early this year.
No funny dances for our Ellen
Video on its way...