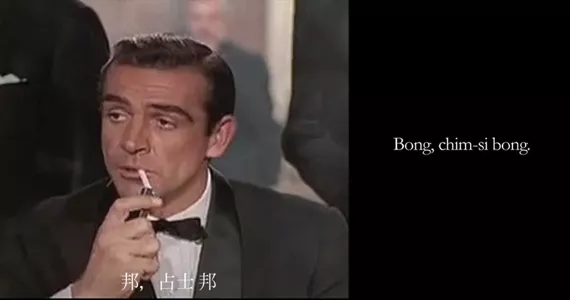 Gerard Choy's Migrant Sounds mixes pop culture and antiquated phrase books.
Bong, Chim-si Bong. Sound familiar? This is just one of the classic film quotes artist Gerard Choy has transcribed from Cantonese to Cantonese-sounding English words for his media installation The Phrase Book of Migrant Sounds Vol. 1, on at NSCAD's Port Loggia Gallery during Nocturne. Choy will be offering a unique linguistic experience, and participants can expect to walk away with a fresh spin on their tired James Bond impersonations.
Anyone who's tried to learn a new language has encountered the tongue-twisting frustrations that can arise. The difficulty increases if the language you're trying to master has a different alphabet, or entirely unfamiliar sounds. Choy, a NSCAD grad born in Singapore, is interested in these struggles, especially as they relate to migration and identity. During his research into the experience of Chinese migrants, he came across some curious phrase books first published in the early 1900s, created as a helpful tool for newcomers. "What is unique about the texts in these old phrase books is not that English is translated into Chinese, but that English is transcribed phonetically into the Southern Chinese dialect of Cantonese, to help migrants pronounce English words using more familiar Cantonese sounds," Choy says. "I was particularly intrigued by this process, in which the sound of a word is transcribed into its sound in another language."
The phrase books feature sentences meant to be useful in everyday exchanges, like "How long are you going to stay?," "I shall be away about six months," "What kind of country is it?" and "The weather is most temperate." They also transcribe terms used in commercial correspondence, along with trade, marine and geographical words like "district," "port" and "village".
Though not developed through an exact science, Choy imagines that the phrase books could have been useful. They "could be a way in which the new migrant could negotiate a new linguistic and sound environment, a way in which unfamiliar sounds are made familiar, the alien made closer to home." However, not every English sound has a Cantonese equivalent (and vice versa), so the writers had to be creative.
"Additional syllables were drafted to approximate the sound, which was often still quite far off from the English sound," Choy says. "The sound of the 'v' in 'love', for example, is non-existent in Cantonese, so what's the closest approximate? Perhaps an 'f' sound would work, since there are Cantonese words with that sound."
Nocturne audiences will get to re-enact this process by reading phonetic transcriptions aloud while watching a muted video loop of a film scene. "The audience will have to work out the lines from the visual clues of the video, as well as from the English Romanization of the Cantonese characters. In this way, they will experience how new migrants might have wrestled with speaking English," Choy says.
This is an installation that encourages an element of empathy and understanding, too. "There is perhaps a tendency to laugh at or be impatient with people who speak our mother tongues in a funny way," Choy says, "so I hope The Phrase Book of Migrant Sounds Vol. 1 will highlight that the oddness may come from having a different repertoire of sounds at one's disposal. And it cuts both ways. An English-speaker learning Cantonese will also struggle with some of the sounds of Cantonese."
Intrigued? For more experimentation with Cantonese, check out the companion piece, Vol. 2, showing at the Canadian Museum of Immigration at Pier 21.