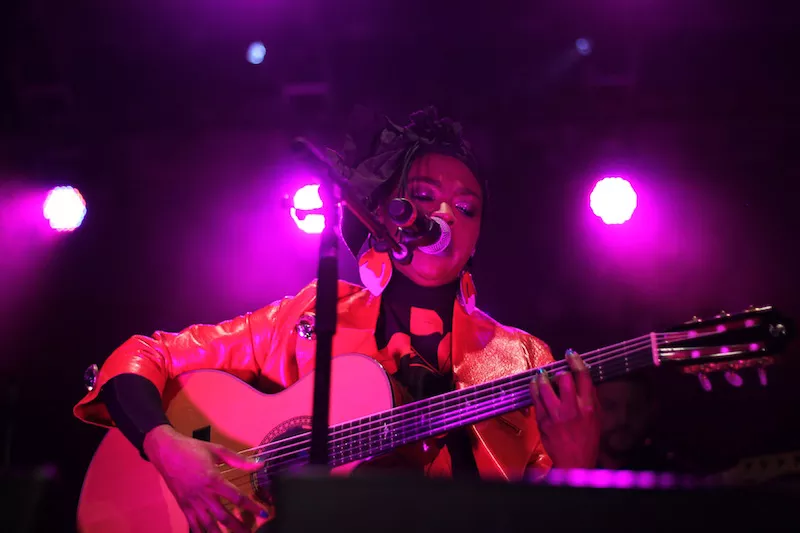 Ashley Corbett
Lauryn Hill got three songs into her Halifax Jazz Festival set before a lightning storm took over the show.
Tuesday night at the 30th Halifax Jazz Fest's big opening show, a thunder and lightning storm erupted over Ms. Lauryn Hill and her band. As the musicians were ushered off the stage, the light show over the harbour kicked up in dreamy purples and hazy greys, then the skies opened up and rain fell like it would swallow us whole. It rained and rained and rained. Slowly, nearly imperceptibly, it began to fall more evenly, its fury dulling, ending in a kind of gentle salt woven mist. People were drenched and radiant.
When Hill returned to the stage it was as if she had conducted all that electricity, intensity, and fed it back out into our breastbones and rib cages through the bass of her unstoppable words. Her voice is unlike any other instrument. She conducted her band as an army general—wildly, prophetically, madly—and in the process redefined live improvisation. The Jazz Fest was a perfect vessel: As Hill drew on the strengths of her mothers, Ruth Brown, Etta James and Nina Simone, she remained inherently herself. This, in a sweeping electric shock of a night, couldn't have been MORE jazz.
Hill crouched in blue light and it felt as if she were drawing us in, around her fire. She popped out like a bullet with "Fu-Gee-La." She invited us to sing along to "Killing me Softly" like we've done unabashedly, but perhaps, before tonight, only alone.
She nurtured us with three original takes on Bob Marley classics we were nursed and bred on. For "Feeling Good," the way she sang "it's a new dawn it's a new day it's a new life" made Simone's song as gritty, crackling and fearless as it's ever been.
A mighty queen has met Nova Scotia. The Maritime weather threw everything it had at her, and she threw it back in an orchestral explosion of dominating poetry, passion and sheer life force. The woman is made of fire.
You electrified us with your spirit, Lauryn Hill. Thank you for making us feel alive.
9 slides