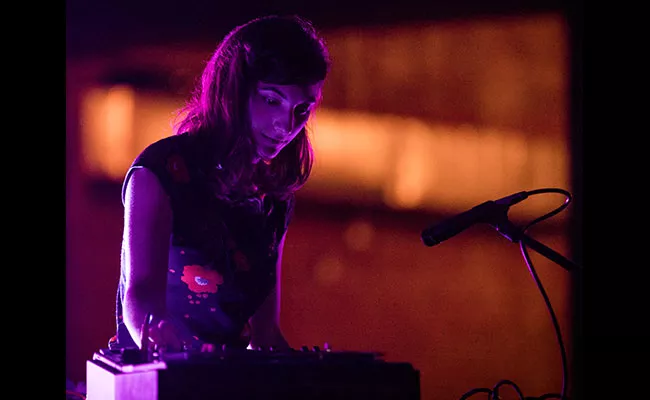 WALTER WLODARCZYK
Bertucci herself: "an artist who works with sound."

Lea Bertucci w/Taral Naik, Daniel MacNeil

Friday, February 16, 7:30pm
The Khyber Centre for the Arts, 1880 Hollis Street
$20/pwyc/free under 19
It would be a fallacy to call composer, sound designer and multi-instrumentalist Lea Bertucci merely a musician, because she's so much more. "When people ask me what I do I say I'm an artist," says Bertucci. "It can be misleading because I make music, but I like to call myself an artist who works with sound."
The New York-based Bertucci, who recently released her first LP Metal Aether, is making a trip to Halifax this week to perform and discuss her artistry—and there's a lot to discuss. In 2017 alone, Bertucci toured North America and Europe non-stop, partook in a series of residencies and published her first book, all while recording material for her debut, whch was released on February 9.
Recorded between France and New York, Metal Aether explores Bertucci's interest in the way physical spaces affect sound, as well as psychoacoustics. Just press play on any of the album's atmospheric tracks, and it's easy to hear why it's been categorized as avant-garde music.
Primarily using a saxophone—warped by 30 years of basement stagnancy—Bertucci creates compositions that begin small, but grow into enveloping multitimbral soundscapes.
"Because the saxophone was broken, I was forced to look at it in a new and more abstract way," she says of the affected and heavily processed woodwind sound prevalent on the album. Aside from instrumentation, Bertucci takes her music to another world by employing tape collage techniques, which blends her music with sound clips recorded in various environments (including Mayan pyramids), adding an abstract, lo-fi electronic touch.
And while her creative endeavours may never reach top-40 radio, it's clear she's reaching the audience she wants. Within a week of release, Metal Aether has been covered by The Wire, Spin and Pitchfork. In addition to the press, the album's standout track "Patterns for Alto" was added to Apple Music's Alternative Classical playlist.
"She's doing pretty well as far as experimental musicians go," says Andrew Patterson, creative director of OBEY Convention, which is bringing her to town. "I'm not surprised that she's on her way up in terms of more people knowing her work."
Patterson, who discovered Bertucci on the internet, was intrigued by her holistic approach to composing and relation to space and sound. "We try to find ways to present music that is outside of the music industry and the trappings of music as entertainment," says Patterson. "We're interested in honouring people's art and creative thinking. Lea is a really good fit."
Bertucci has multiple projects in the works, including a new book and a European tour this spring. As for her brief visit to Halifax, she hopes to create a new and unique listening experience for all who come to see her.
"I have a fascination with the way acoustic and sonic phenomena can exist in music and within the individual's experience," says Bertucci. "I just hope people appreciate the sound and that something resonates with everyone on a subtle, emotional and subliminal level."