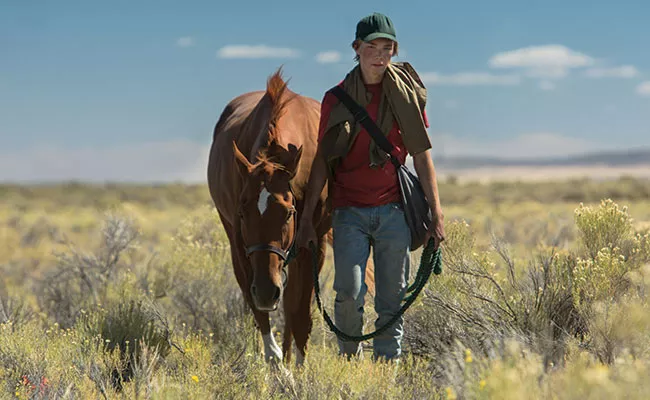 ELEVATION PICTURES
Starsky as Lean On Pete and Charlie Plummer as Charley in Lean On Pete.
Lean On Pete
Opens Friday, April 27
The titular character in Lean On Pete is a horse, but make no mistake: This film is no Flicka. It's no Secretariat. If you want an unequivocally happy ending for both horse and human, you won't find it here. But the story has other things to offer.
Writer and director Andrew Haigh decided to bring the tale to screen after reading the novel of the same name. "The book resonated with me hugely," he says. "I felt so much for this kid and his desperate need for some kind of stability and to be cared for while everything was kind of falling apart."
This kid is Charley (Charlie Plummer), a teenage boy being raised by a well-meaning but messed-up single father. After moving from Spokane to Portland, Charley takes up a job from Del (Steve Buscemi), a jaded horse trainer who introduces him to Lean On Pete. The aging racehorse has seen better days, but Charley connects with him instantly. As Haigh puts it, Charley tries to care for Pete in the way he wants to be cared for.
Tragedies stack up for Charley. Eventually, Pete loses a crucial race, making him destined for slaughter. Charley turns to jockey Bonnie (Chloë Sevigny) for help, and when that doesn't work he elects to take Pete on a journey to Wyoming to find his estranged aunt. Haigh was challenged with tackling scenes that only featured Charley and the horse.
"Let's face it, if you're out in the middle of the desert, you're gonna talk to someone," he says, referencing Charley's one-sided conversations with Pete. "I think, for Charley, it's a way to feel safer in those environments."
So, Pete plays an important role. When it all comes down to it though, this isn't a "horse movie."

"I hope that, in the end, the film speaks to the importance of kindness, I suppose, and the importance of compassion."