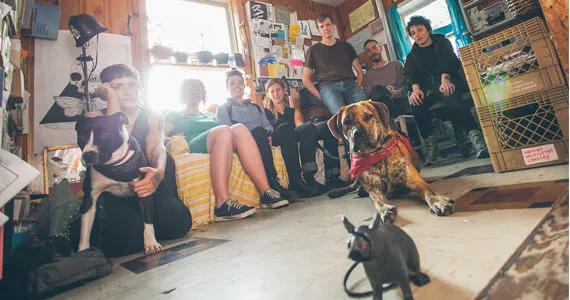 "Rat Skool, 2012, you were in my class!" "I was your teacher."
Sure, Halifax may be home to at least seven institutions of higher learning, but if you're looking for some info about ants farming aphids, menopause or Initiative 2045 (look it up, it will BLOW YOUR MIND), look no further than the Roberts Street Social Centre.
The Roberts Street Social Centre has long been a hub for accessible independent media, art and education. Championing critical, creative projects and DIY social change, the Roberts Street Social Centre boasts an epic zine library, an in-house screenprinting collective and even an artists' residency program (not to mention the cheapest photocopies in the city).
RSSC's newest initiative, Rat Skool, emerged out of a project one of its residents started this summer.
Now in its third installment, Rat Skool promises to educate and inform on a number of wide-ranging and zany topics. The catch? The subjects are decided by a completely random lottery, as are the people who are presenting on them.
The idea is to take learning outside of an institutional setting, says Capp Larsen, one of the brains behind the subject lottery. "We want to challenge the idea that you have to be an expert or a professional to be teaching other people," she says.
RSSC hosts Rat Skool once a month, and it's free for the public. This month's subjects include the 2045 Initiative, the moon, how to build your own still (for alcohol) and botulism. The topics were all chosen randomly by draw of a hat at September's Rat Skool, as were the people presenting on them. Larsen says that although so far most presentations have been more like talks or lectures, she'd be open to any format---including a song and dance routine.
Larsen says that having people who previously knew nothing about the topic they're presenting on makes it more interesting for everyone. "Usually the people who are presenting on the topics for the first time have a really unique perspective, because they're learning about the topic at the same time," she says.
"We're trying to break down the barriers of who is the expert, or the teacher, and who is the learner---the teacher is the learner at the same time," Larsen says. "So maybe the person presenting knows a bit about the topic, but someone in the audience knows another tidbit that's kind of related, which makes for a really spontaneous and interesting discussion."
It can also lead to unexpected places. Larsen says that at the last Rat Skool, a presentation on ants and aphids mutated into a discussion on the symbiotic relationships between humans and broader questions of human behaviour and power.
"It spurs discussion into directions you wouldn't necessarily see it going," she says. Sharing knowledge in a communal way is "really powerful."
But why "Rat Skool"? Larsen says that the RSSC team found a dead rat in the backyard at Roberts Street, and the rat became "our little mascot." Also, Larsen adds, "the rat is a scavenger and also considered vermin and an outsider," which fits with the ethos of the project.
"By taking education outside an institutional setting, we're hoping to de-professionalize and de-commodify it," she says. "It goes along with the DIY ethics of repurposing things that are considered trash or useless.
"Living on the excess of capitalism---rats do that pretty well."