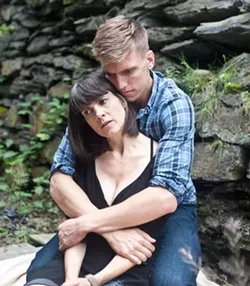 Some of the themes in Leaving Wonderland may be ripped from the headlines, but there is nothing sensationalized about Shelley's Thompson's heart-touching play. This story of grief and growth is firmly rooted in truths about the complexity of relationships.
The story begins with a college professor and successful author named Jane (Geneviève Steele) berating two drunken university boys who are hurling beer cans and insults, while her husband Craig (Hugh Thompson) stands impotently by. The scene sets up the couple's dynamic beautifully—Jane is constantly on the attack, while Craig is in the shadows.
At first it seems that the death of their son Joey from alcohol poisoning has cast them into these roles, but the multiple layers of their discontent are skillfully revealed throughout the play. Just as in life, the relationships aren't neat and tidy. No one is wholly innocent. No one is totally to blame.
Jane is struggling not only with Joey's death but with her transition into middle age—a place where she feels undesirable and invisible. This changes when she falls into a relationship with Rob (Adrian Shepherd-Gawinski), a gifted but damaged young man who shares her passion for poetry.
It's wondrous to watch Steele soften from a prickly woman with mile-high defenses to someone open to love and possibility. Shepherd-Gawinski is outstanding, bringing to life Rob's heart-aching vulnerability as well as his magnetic intensity.
Leaving Wonderland is without a doubt Jane's story, but we come to care very much about Rob's story, too. And because of this, the ending, which deals only with Jane's healing, is slightly unsatisfying. We want to know that Rob is whole and happy and at peace with the difficult decision that Jane has made.
Rounding out this strong LunaSea Theatre production, Mary-Colin Chisholm as Jane's faithful-to-a-fault best friend, Scott Baker as a dim and dangerous frat boy and Thompson as the unfulfilled husband are strong in their supporting roles. There are dozens of scenes, and Carolena Charles' set design of white screens and Johnny Cann's evocative lighting and projections allow for elegant, seamless transitions.
---
Leaving Wonderland
To October 4
Neptune Studio Theatre, 1593 Argyle Street
<
>
$25/$20