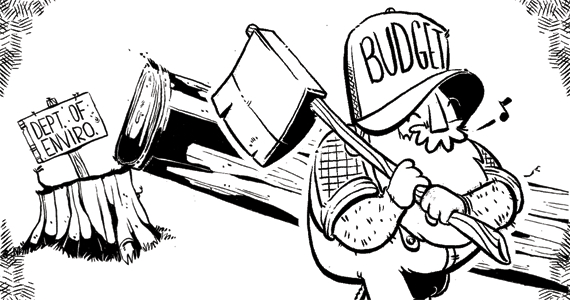 Justin Lee
The new provincial budget chops environment by five percent.
As the federal government shirks its environmental responsibilities, the Nova Scotia environment department is following a poor example when it should be picking up slack: the department cut its budget by five percent last week and eliminated 12 jobs.
The estimated budget for 2013-2014 is just shy of $25 million---which constitutes less than 0.3 percent of the total provincial budget. Most of those cuts are in administrative positions, which will likely effect the province's ability to conduct environmental assessment of development projects and enforcement of existing laws, according to Mark Butler, policy director at the Ecology Action Centre.
"As the capacity of the federal government shrinks, someone has to pick it up or else it won't get done," he says.
But minister of environment Sterling Belliveau appears out of touch with the tasks facing his department, saying that environmental assessments were "still in the responsibility of Ottawa."
Department communications advisor Lori Errington clarified that an environmental review panel is called only for Class 2 development projects, such as solid waste incinerators, petrochemical facilities and pulp and paper plants. Such projects have only occurred twice in the past 10 years, she says.
In last year's spring federal budget, the Canadian Environmental Assessment Act was replaced with a new act that eliminated 3,000 federal environmental assessments, including 151 in Nova Scotia. When the Navigable Waters Protection Act dropped the "water" from its title (and its mandate), the feds abdicated responsibility on 99 percent of lakes and rivers in Canada.
That means Bras D'or Lakes, Lake Ainslie and French River on the south shore are no longer protected federally.
Butler is less than impressed on the province's willingness to enforce laws or punish violations. Common environmental culprits include logging companies and major employers in rural areas. On the south shore, where Butler lives, fish plants and wharves routinely burn tires and ropes in violation of environmental protection laws.
"If you were a zealous environmental enforcement agency, you'd do something about that," he says. "I've never felt like the department of the environment followed up in any areas."
The province never followed up residents' concerns about the landfill in the small rural black community of Lincolnville in Guysborough County. Residents worried about chemicals in their surface and groundwater after the dump was built in 2006, but the province never tested for chemicals and contaminants in the well water.
Together, five departments key to effective management of resources---the departments of agriculture, energy, environment, fisheries and aquaculture and natural resources only make up only 2.3 percent of the total provincial budget.
The 12 job cuts were meant to reflect what Belliveau calls "vacancies" in the department. He doesn't see them as cuts so much as "efficiencies." Errington could not confirm where those vacancies were.