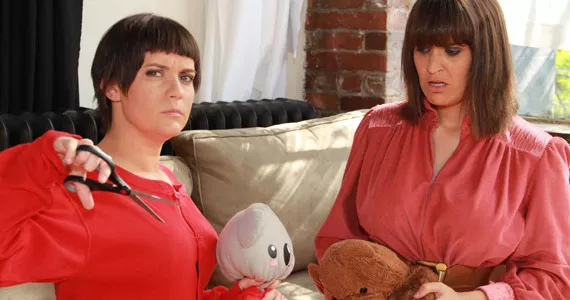 Scissor sisters The Young Geologists.
It's not often you get to witness a romantic evening between a young woman and a killer robot, but sketch comedy duo The Young Geologists hopes to provide you with such an opportunity through its show I Don't Like You, happening Thursday and Friday at The Bus Stop Theatre.
"I enjoy writing stuff that's different than what you're expecting from two females," says Erin Rodgers, who along with Pictou County native Gillian English fine-tuned the show's 12 sketches while performing at The Comedy Bar in her hometown of Toronto. "I want to take the perception of, 'Oh, this is going to be a girl thing' and turn it on its head."
Such is the ambition of a woman who, at the age of eight, decided she would marry the much-older multihyphenate entertainer Albert Brooks. "Which is weird for a kid, but I loved the way he dealt with things." Rodgers says she aims for the same approach to comedy as her future husband: absurdity grounded in reality. "I love sketches that have a real emotional base to them." Even ones in which she's dating sentient machines.
The title I Don't Like You is derived from one of English's romantic misadventures with an actual human being. "I was seeing this guy and we went on some dates," she says. "I didn't really like him. There was nothing redeemable about him, but he kept asking me out on dates and for some reason I kept going. After awhile, I realized he hadn't so much as tried to hold my hand and I was like, 'Dude, what gives?' And he looks at me and says, 'I just don't like you.' I was like, 'What a perfect name for a show.'"
The Young Geologists formed two years ago after the dissolution of Toronto comedy troupe Radio Vault, for which Rodgers wrote and English performed. English, a Shakespearean actor who "fell into" sketch comedy, is a graduate of Dalhousie's drama program. It was there that she met local comedian Brian Macquarrie, who will be acting as host of I Don't Like You.
"Brian's an old buddy," English says. "I was like, 'Look, Brian, we're coming home and you're Picnicface-famous, why don't you host the show for us? We're hoping he'll get some butts in the seats."
While English has fond memories of the city from her undergraduate days, Rodgers "fell desperately in love with Halifax" after visiting The Bus Stop Theatre last year for the inaugural Suitcase Festival, where her co-writing skills helped earn the one-woman show Epic Pitch a repeat performance and the title of festival hit.
"It was exciting," she says of the acclaim. "I might have been too Canadian to get a big ego about it, though. I probably got excited and then apologized for it."
Other Haligonian draws for Rodgers: donairs, growlers and the kindness of strangers. "I had an experience last year where this very angry man was shouting loudly and unintelligibly about something on the street and when he saw me and my friends pass by, he tipped his hat and said, 'Ladies.' I was like, 'Oh, Halifax, you're so charming.'"
In addition to toying with convention, I Don't Like You promises to be an evening of cruelty-free humour.
Rodgers says, "If you're just pointing at someone and laughing, I have no interest in it. Being a shock comic is kind of like shooting fish in a barrel. It's ridiculous to be like, 'Bam! Take that, people who are already in a position of weakness!' It's like kicking someone when they're down and then running back and giving them a second kick. It's just not our style."