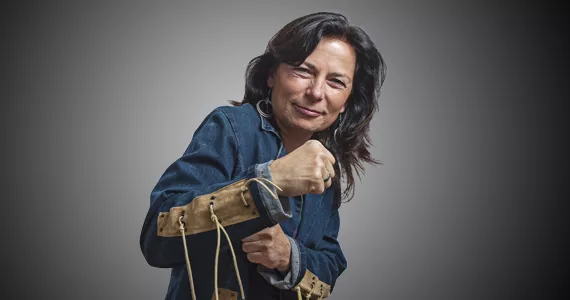 LENNY MULLINS
MacPherson is running against incumbent Mike Savage in the October 15 election. Telephone and e-voting runs until October 13.
It takes some gusto to challenge an incumbent, especially if you're the only one doing it. But Lil MacPherson was called to action last year after attending the United Nations climate change conference in Paris. "They talked a lot about the role that municipalities can have," she says, "the role that mayors can have and I really started thinking about that."
She decided that this election, she would put her name on the mayoral ballot. The timing of her campaign is "a bit awkward," she admits, seeing as her Wooden Monkey restaurant is one of several downtown businesses "negotiating legal proceedings" against the government in an effort to recover financial losses caused by the construction of the Nova Centre. MacPherson's business partner is taking over the Monkey's operations for the time being. But small business concerns have certainly fuelled MacPherson's campaign. She wants to be a voice for entrepreneurs in the city struggling to stay afloat despite construction, street closures and other bureaucracies.
"I keep hearing so many stories, people are coming to me, we've got a problem here," she says. "We need to clean out some of our cobwebs." She points to Dartmouth's Darkside Cafe as an example of "the city protect[ing] policies more than people." The art gallery owners opened in 2014, and violated zoning bylaws by selling more food than its license permitted, which eventually came with a $47,000 fine from HRM.
"It's ridiculous. Why are we holding back and capping people?" MacPherson asks. "All because their coffee sales and sandwiches are, you know, doing well."
Still, she has a hard road in front of her if she wants to be mayor. The most recent election estimates, conducted by Corporate Research Associates between July 26 and August 6, found Mike Savage had an 85 percent lead from respondents. But she doesn't pay that any mind. "The polls don't bother me, I don't pay attention to them," she says.
Even if MacPherson doesn't win, at least she's starting new conversations.
"I'm attached to being who I am," she says. "I'm definitely going to push my green initiatives strong, because we need them."
———
MacPherson on campaigning:
"Campaigning is hard! And it's really quite an experience."
"I really wish there were 10 of us up on stage…it's disappointing that I'm the only [challenger]."
On HRM's environmental work:
"I think they're starting to get it. I'm hoping they're starting to get it, but the whole consultation on the Blue Mountain-Birch Cove thing was really not done well…and everybody knows it, and they know it too."
On small business and development:
"The whole [Nova Centre] situation should have never even happened. There's no mitigation plan, when we're throwing flags in the air and asking the city, for help…'Help! Help! We're drowning down here, help.'"
On urban farms:
"The opportunities are massive when you start growing food in the city and selling food, and opening commercial kitchens."
On plastic:
"I want to get the city off plastic bottles. Definitely ban plastic bags, that would be the first thing. Those are very easy, low-hanging-fruit things to grab."
On poultry:
"We should be able to have chickens in the city. If I will be mayor, we will be having chickens...There might be sheep on the Hill… who knows."