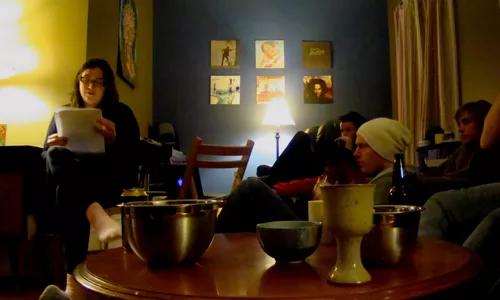 The Lilah Kemp Reading Series is homestyle literary goodness
It has been said that writers write and writers read. On Halifax's literary scene this has never been more true. Writers are writing. They are writing a lot and so they've got a lot of reading to do. The Lilah Kemp Reading Series provides a cozy yet collegial forum for writers to do just that: read.
For the past year the series has been running in and out of north end homes as a sort of moveable literary feast. Inspired by Jenner-Brooke Berger's Allan Street Reading Series, Corey Mombourquette created Lilah Kemp to retain that same BYOB, parlour-style atmosphere.
But living in a bachelor apartment has forced him to rely on the kindness and hospitality of larger-homed friends to house this happening. Ben Gallagher is a Halifax poet who has read at Lilah Kemp and he feels that this transience has given the series a special magic.
"For me personally it's always important to have those opportunities to read and share your work with other people," says Gallagher. "So it's extremely valuable that it's happening, and the movability of it and those kinds of venue-less things help to stick together some form of community."
Without a reliable venue, the series has created an internal consistency---a hearty blend of new and seasoned authors reading their poetry and short fiction. This year, Mombourquette wants to take this core and move it forward. "What I want to do this year is move away from making it Allan Street," he says, "and start making it my own thing."
The new season of the series will still be literary at heart but will also incorporate music, theatre, sketch comedy and short films. Each of the eight upcoming episodes will orbit around intriguing themes like "Wicked and Weird," "Theoretical Love is not Dead" and "Wocka Wocka."
The first episode is being held 8pm on January 25 at 6395 North Street and has a fitting theme for a new beginning. "Everything Will Be OK" will feature readings from Coast contributor Andrew Patterson, Dereck Thibault and Josh Tibbets. It will also involve the screening of Don Hertzfeldt's short film of the same name.
"The idea is that for each one I do this year there will be stuff happening that you wouldn't normally see at a literary thing. It's like 75 percent a reading series," says Mombourquette. And what's the other 25 percent? "Fun!"
Mombourquette is hoping that this new format will help the Lilah Kemp series rise to the challenge of what he sees as the fractalization of the art scene.
"I find the Halifax art scene is very fragmented. Things don't last, or bands don't last," he says. "A lot of stuff like this is very under the radar and people don't know about it."
To remedy this Mombourquette is hoping to make his series more accessible. He is currently looking for a public venue that Lilah Kemp could call home. "People are much more comfortable going to a public venue then to some person's house. It's kind of...I like to say innovative but some people think it's weird."
Whatever it is, it's been working. Writers are writing and reading and being heard. And as far as frequent Lilah Kemp reader Josh Tibbets is concerned, the series is a force to be reckoned with. "It forces me to air my dirty laundry to really have it exist out there and have people hear it," he says. "And it forces me to get things done for the occasion. So it forces me to quit being so damn lazy and actually do something."
Everything Will Be OK w/Andrew Patterson, Dereck Thibault, Josh Tibbetts, Wednesday, January 25 at 6395 North Street, 8pm