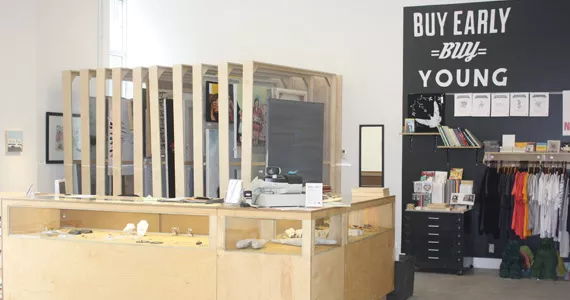 Anna Leonowens Gallery, 1891 Granville Street
Well, duh, the Nova Scotia College of Art & Design would have its galleries on lock, showcasing not only creatives from across the country, and world, but students, staff and alumni, too. The great thing about the cluster of gallery spaces that make up Anna Leonowens (named for the school's brilliant founder) is the sheer number of exhibits that grace them---only over a hundred a year.
This fall is jam packed with highlights like RESISTERECTOMY (September 17-28), Chase Joynt and Mary Bryson's moving image, picture and text installation that examines the gendered body's boundaries through medical procedures and spaces. Or Amos Paul Kennedy's collection of 100 letterpress works, Print and Be Bold (October 15-26). Or, or, or. You're guaranteed goodness here, weekly trips would be wise. New shows open Mondays at 5:30pm.
---
Seeds Gallery, 1099 Marginal Road
Port Loggia Gallery, 1107 Marginal Road
Down near NSCAD's Port Campus are two galleries worth checking out on an off period. Seeds is a great spot for eye-feasting AND shopping, it's a commercial gallery that reps school pride and shines the light brightly on students and alumni.
Currently, Jeremy Hansen's Fleshed Out is hanging---it's a series of paintings that explore anxiety and paranoia beautifully. Seeds is also a performance space, and it hosts Soft Steel: An Introduction to Industrial next week (September 5 at 9pm), featuring DJ Blood God. Cool!
Port Loggia is unmissable---it's right on the Port Campus---sure to distract you on your way to class with student, alumni and staff works like #KEJI (on October 3 through 12). It's a class project that came out of four days of a "contemporary camping experience" in the Kejimkujik Park.
---
Dalhousie University Art Gallery, 6101 University Avenue

I've referred to this gallery as a rabbit hole before. You get glimpses of whatever exhibition you're seeing little-by-little as you descend the stairs to the basement of the Dalhousie Arts Centre. It's a cool and quiet spot featuring a few different rooms to navigate the rotating schedule of works and forget about navigating your fellow-student-filled University Ave. Opening this weekend is the thoroughly awesome-looking The Lion's Share, from Calgary artist Rita McKeough. The chaotic installation uses found and constructed objects, as well as kinetics, to create a restaurant-styled installation that's a commentary on agriculture and food concerns.
---
Mount Saint Vincent University Art Gallery, 166 Bedford Highway

Small but mighty, this gallery is a great escape from the rest of campus. Save for a lonely Information Services Desk, the gallery is the only thing on the ground floor of the Seton Academic Centre meaning it's easy to miss (yup, this is the one I took for granted, guys). But it's also easy to take a breather here, undisturbed. The two-level space brings a wide range of artist media through its doors, this fall look for a collection of stunning portraits, as well as architectural shots from 20th-century photographer August Sander. Objective Romantic opens September 7, followed by an "anti-fashion statement" from Arianne Pollet-Brannen on November 2. Her Flesh is satirical, wearable art where found garments and materials come together in sculpture.
---
Saint Mary's University Art Gallery, 923 Robie Street
The first floor of SMU's high-rise residence, and home of the Burke-Gaffney Observatory, Loyola Academic Complex is where you'll find the university's art gallery. This roomy beauty has been around since 1971, exhibiting contemporary art on local, national and international scales. Up until October 6 is Entangled Particles: Four Contemporary Chinese Artists, four different artistic responses fueled by the political challenges of China. Then from October 19 into December a multi-media installation from Robert Bean and Ilan Sandler called Obsolescene/ Invention explores language and technology through projections, sculpture, digital prints and renderings.