Lord of the Rings: The Two Towers - Extended Edition Event
Rated NR 235 min. 2011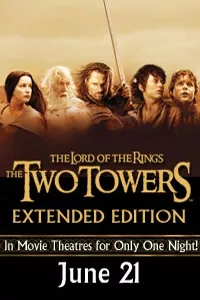 NCM Fathom and Warner Home Video present "The Two Towers: Extended Edition on June 21, 2011 at 7 p.m. (local time). The event will include a personal introduction from director Peter Jackson captured from the set of his current film and "The Lord of the Rings" prequel "The Hobbit," immediately followed by the feature presentation including nearly an hour of additional feature footage carefully selected under the supervision of director Peter Jackson. Don't miss your chance to see this historic series as it was meant to be seen!
Film Credits
Cast: Elijah Wood, Liv Tyler, Ian McKellen, Viggo Mortensen and Sean Astin
Show Times
Sorry there are no upcoming showtimes for Lord of the Rings: The Two Towers - Extended Edition Event
xxx - Deprecated in favor of GTM, above.