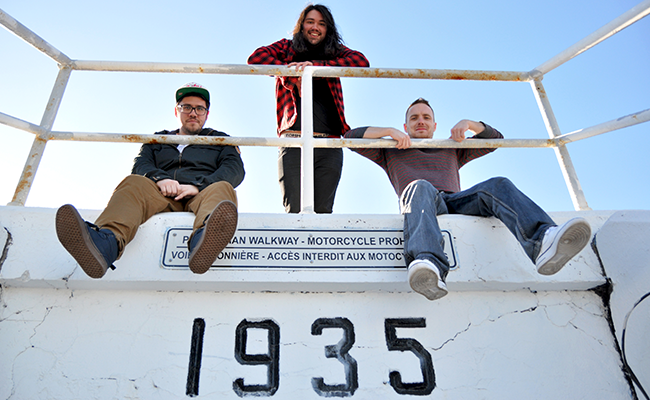 Dazor w/Co-Pilot, Stonehouse Saturday, April 1, 10pm The Oasis Pub & Eatery 5661 Spring Garden Road, $6
Bumming cigarettes and video games were the catalysts that started Halifax alt-rock trio Dazor. "When we first started playing, we were playing in the basement of a frat house," says drummer and vocalist Lewis Belcher.
Belcher started chatting with guitarist and vocalist Ian Panter when the two of them were on smoke breaks at work. The pair started jamming before adding bass player Andrew MacMillan, who they met at a Super Smash Bros. tournament.
Although Panter went rogue and recorded an EP by himself, Back to the Lounge is the band's first recording together. The songs were kicking around for awhile, but the band wanted to do more with them. "Let's invest in them. We believe in these songs, let's actually put some money behind them and make them sound the best we can," says Belcher.
The band went to Sonic Temple and recorded the four songs with Darren Van Niekerk, scaling back from the initial—and ambitious—goal of 14. "I'd done some recordings at home and in our jam space, not really knowing what the professional process of it was," says guitarist Panter. "It was incredible to see the level of professionalism that these guys had."
Dazor started off with covers of '90s alt-rock staples Foo Fighters, Smashing Pumpkins and The Pixies before working on original songs. Panter had experience playing folk songs at open mics and bars, but just wasn't feeling it. Alt-rock gets the band fired up.
"It's fun to play. We get to rock, but we also have some catchy melodies and things that I think can really get stuck in people's heads," says Belcher. "We're not just out ripping trying to get people riled up, we're trying to just play what we love and get some good melodies out there."
WEXTRA INFO