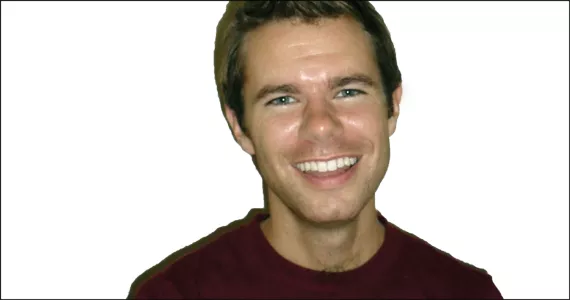 Janet Findlay
Scott Jones
Gottingen Street for Scott Jones is a multi-venue fundraiser taking place Thursday, bringing the community together with compassion and love. by Adria Young
"Scott's got such a natural smile. You can tell he wears it a lot," says David MacDonald, drummer of PEI's Paper Lions. The rock band is just one of over 30 performers who will bring tons of love to Gottingen Street for Scott Jones, the multi-venue, full-street fundraiser on Thursday night.
Everyone who knows Jones absolutely adores him. Last month, the 27-year-old classical musician and church choir director was attacked in New Glasgow in a brutal act of violence that has left him paralyzed from the waist down. Circumstances suggest that Jones was targeted by his assailant for his sexuality. As the gay community reeled from the horrific news, Georgia Richards called to action.
A high school friend of Jones' and sound engineer, Richards began planning the fundraiser through her Port City Events immediately after she heard about the attack.
"We absolutely have a community obligation to advocate for other people. That's what it means to be in a community and to realize that we're all different and that difference is fabulous," Richards says. She enlisted the help of friends and music industry pros Rose Allen, Kris McCann and Andria Wilson to book Gottingen Street venues.
"I believe that Gottingen Street is the cultural hub of Nova Scotia. It's where everything collides: wealth and poverty, race and ethnicity, culture and spirituality, religion, art, music and language," she explains. "So we've got the Friendship Centre, spoken word, hip-hop, folk, rock, comedy, a full range and demonstration of diversity. It's important to stand up together against hate. There's been so much hate expression in the Maritimes in the past couple of years. It's unbelievable and it's also not who we are."
"I could hang out on Gottingen Street all day," laughs Jones, from his room at the Rehab Centre in Halifax. His warmth and positivity overflow despite that he's facing the financial and personal price of impairment. All funds raised will be donated to the Scott Jones Trust to help alleviate these high costs.
"Well, now I'm just like, whoa! Realizing how much cost is associated with this lifestyle, which you don't know otherwise," he says. "Catheters can cost up to $8 each! Then there's wheelchairs, an accessible vehicle, an accessible apartment, ramps. The fund is truly to make my life more accessible."
Jones says he's been overwhelmed by the support, "but that's really an understatement. You look at this event and the amount of people on board and it just shows that there are two things: people believe in music, and people believe in love instead of hate. Using music as a tool for change, wrapping it in this message of loving. In the face of adversity, music is monumental."
As a classical musician, Jones has dedicated his life to the art. Now, he's uncertain when or how he'll return to the piano: "I can't play the pedals anymore and that's everything to me. It limits the instrument. It's been emotional, but I'm excited to get back to conducting---I can still use my hands."
His love for music is widely admired by friends like MacDonald who, with Paper Lions, is honoured to take part in the fundraiser: "The classical music that he plays, it shows Scott has such a respect for that kind of timeless beauty, and that's a really beautiful place to be coming from," he says.
"All of the acts performing for Scott are amazing artists," says Richards. "And they showcase all of the diversity we have in our own music community. Everyone has been so gracious and so awesome."
The fundraiser begins with a sharing circle at the Mi'kmaq Native Friendship Centre, and then from The Company House to Menz Bar, from spoken word to folk songs, there is a show for everyone.
"Rich Aucoin would be my top pick," says Jones of The Marquee's headliner. "I want people to use their legs because I don't have mine right now and I would be dancing up a storm. I love Rouge Fatale, too, and the drag show. That's where I'd be."
Richards assures Jones that's it really no trouble at all. "You've been such an inspiration to a lot of people, with how brave you are and how positive you remain," she tells him.
"There's a lot of effort going into awareness," Jones says. "That's kind of what I'm running on, it's energizing me and keeping me going, that such a negative thing can be used in such a positive way. If I were to leave a message, it would be for people to talk about homophobia, about how fear can take a lot away from someone's life. 'Like' the Don't Be Afraid campaign on Facebook and spread the message."
His outlook is the model of compassion. Not even two months since the attack, Jones is already reflecting on forgiveness: "It's really hard for me to empathize right now, but hopefully that will come."
Between fundraisers in New Glasgow and Halifax, donations to the Scott Jones Trust, the dedication of friends and the ability of strangers to see themselves in others, in his position, Jones feels the outpouring of love: "I can't even begin to express how thankful I am."
---
Gottingen Street for Scott Jones
Thursday, November 28 beginning at 5:20pm