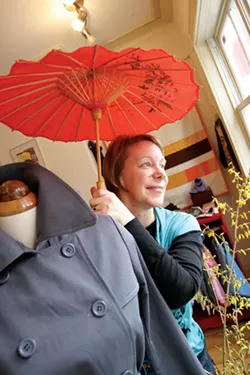 In a big blow to the local artisan community, Chara Kingston has decided to close Love, Me Boutique (1539 Birmingham Street, 444-3668). On her blog she writes:
So…this just might be the hardest blog post I have ever had to write.

After almost five years of following through on a dream, I have decided to close Love, Me. This past Spring I made the decision to not resign this lease and to move locations. But…as other that search began to prove unfruitful, and an offer to sublet my current lease came up, I jumped on it. It was/is a crazy fast decision that felt really quite perfect.

Love, Me Boutique will be closed to the public at 5pm on Saturday, June 23.
Read the rest of her comments
here.
Kingston has provided an outlet for many, many ndependent and local artisans, including Kyla Francis, Bread & Butter Pottery, Wendy Shirran Pottery, Tacha Reed/Pistacia, Rita Van Tassel, Wanderlust, French Knots, Up re:design, Swallow & Twig, Aneta Borowska, S'kin Designs, Meversible, Sugar Soul Hats, Pip Robins, among many more.