It's all play and no work this Labour Day weekend as we roll into week two of the Halifax Urban Folk Fest, the Fringe Fest delivers droves of theatre and end-of-season parties abound everywhere from the library to The Dome.
Photo by Nick Harrison
Shakespeare By The Sea wraps season 25 with a one-off, experimental take on A Midsummer Night's Dream.
Outdoor movie and barbecue: Avengers Infinity War
Friday
Say "see ya!" to summer with this under-the-stars showing of the Marvel universe flick, which rolls after a barbecue and live music show at the Dartmouth North Public Library. more deets
The Unrehearsed Dream
Sunday
Shakespeare By The Sea caps off its 25th season with an epic theatre experiment in Point Pleasant Park: An unrehearsed performance of A Midsummer Night's Dream, last performed at SBTS in 2005, where actors will know their lines, but it will be their first time interacting with their fellow players. more deets
Feminist hang out crew
Thursday
A chill discussion circle that sees you making new friends and chatting about feminist topics, the hang out crew returns to South House to tackle themes like body positivity and self love. more deets
Agatha Apple
Thursday
The Halifax Fringe Festival opens the curtains at a host of venues around town, with non-mainstream theatre options filling the weekend. One to consider? This play at The Waiting Room by Three Gallows Theatre (the company behind last year's Best of the Fest play A Feebleminded Dictator) which imagines if Mother Earth was a person—and she wasn't very nice. more deets
Matthew Collins artwork
The Teichert Gallery's latest exhibit is a timely collection of expressionist-y beach scenes.
Artrageous!
Friday, Saturday, Sunday
Over 100 young artists aged five-18 show off the results of their time in the NSCAD Extended Studies' summer art camps at this sweet show, held at the Port Campus. more deets
Echoes Summer Residency Exhibit
Friday, Saturday, Sunday
The Mary E. Black Gallery showcases works by "eight emerging, pre-professional and self-directed artists who have used the time and studio space of the Summer Professional Development Residency to craft a body of work while exploring individual style and technique." more deets
...and Turquoise Beach
Thursday, Friday, Saturday, Sunday
Matthew Collins' works routinely focus on bodies of water, are organically constructed and have colour and mark-making playing key roles. Here, his texture-rich takes on beaches make perfect viewing for summer's dog days. See them at the Teichert Gallery. more deets
artgalleryofnovascotia.com screenshot
Transatlantique: The Art of Fashion and Costume Design in Paris and Halifax
Thursday, Friday, Saturday, Sunday
This Art Gallery of Nova Scotia exhibit traces the history and trends of costume design in Halifax and their Parisian Art Deco influences. more deets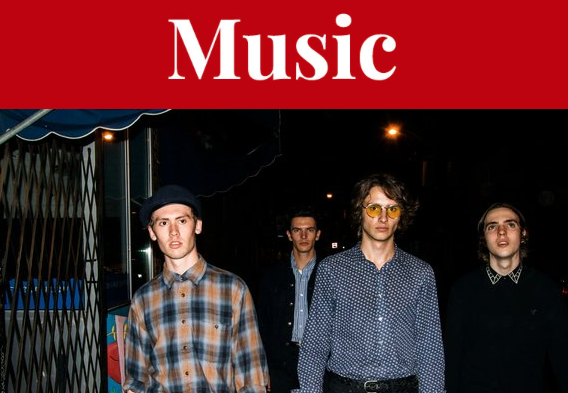 Submitted photo
The Arctic Monkeys-sounding Fade Awaays arrive at The Pavilion.
Labour Day Love w/Jules Bangsworth
Sunday
DJ Jules Bangsworth delivers a rare hometown set that'll make your body thump harder than the bass as summer's swan song plays. It all goes down at The Dome. more deets
Fade Awaays w/The Flakes, The New Millenials, Dazor
Saturday
Toronto up-and-coming garage rock band Fade Awaays serves early Arctic Monkeys vibes as it shreds at The Pavilion, while a strong local undercard is a draw in its own right. more deets
BurgerFriesPop EP Release Show w/FM Berlin, Fungus, Bad Partys
Saturday
BurgerFriesPop's second EP, Food Fight, deserves a party, and the hot, fast, greasy rocker brings you one with help Police-inspired FM Berlin, bog rockin' Fungus and Bad Partys at Gus' Pub. more deets
[image-5] Lilly Hiatt & The HFX All Stars w/Brad Roberts, Tim Baker, Dustin Bentall
Sunday
Nashville singer-songwriter Lilly Hiatt leads this edition of HUFF's nightly song circles, playing her mix of Seattle guitar riffs with Southern lyrics and pieces from her latest LP, Trinity Lane, at The Carleton. more deets