via Facebook
Ment Jewellery
If you're addicted to cruising Etsy, checking out cute, creative one-of-a-kind creations made by hand—you're going to want to step away from your computer this weekend. You can do this.
After drawing nearly 15,000 shoppers last year, the Halifax edition of the Etsy Made In Canada market is back, this time taking over the Halifax Forum's (2901 Windsor Street) Maritime Hall with over 100 Maritime Makers and their beautiful things. Each day (Saturday, September 24 and Sunday, September 25) will offer access to a different crew of crafters—a diverse lineup of folks like selling paper craft, fashion, jewellery, decor and beauty products—from 10am to 6pm, no clicking or scrolling required. And entry to the event is a cold, hard toonie.
Here are 10 local talents to look out for at the event: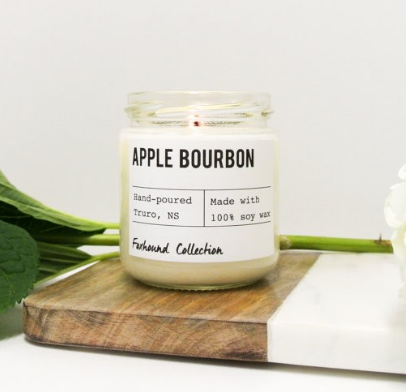 via Etsy
Foxhound Collection
1. Foxhound Collection
Small-batch, soy wax candles that burn for 40 hours and come in scents like wild honey and rose, grapefruit and fig, earl grey and brown sugar. You might feel like you want to eat them, but please burn them instead.
2. Lily Lake Knits
Jenny Fennell's handmade, 100 percent wool stuff to keep you cozy when this everlasting summer stops lasting.
via Etsy
3rd Story Workshop
3. 3rd Story Workshop
Andrea Tsang Jackson's wall-hangings and pillows are total gems. The colourful, geometric, modern quilted creations come in a bunch of birthstone designs and are also available for custom order.
4. Mule Mother Books
Handbound journals and daytimers of all sizes, fabrics and colours made by Ellen Murphy. Inspiration to start writing that memoir!
5. Equilibria Naturals
Organic, wild-crafted skin care and remedies, including facial masks, body butters and a variety of serums.
6. Ment Jewellery
Subtle but stunning, Ment makes a statement with its strong angles, clean lines and adorable adornments.
via Etsy
Daval Beauty's big, bright Tommy Guns
7. Daval Beauty
Pay local lip service via handmade, hydramatte lipsticks in a lineup of bold colours.
8. Field Day Paper
Send cute and thoughtful mail thanks to Joanna Close's illustrated stationery—flowers, foods and tasty recipes decorate her note cards.
9. Briana Corr Scott
Corr Scott's illustrated paper doll kits don't just come in adorable girl/mermaid/fairy form, there are narwals, sperm whales and stylish kitties in the mix, too.
via Etsy
Mo Handahu models a piece The Tutu Experience
10. The Tutu Experience
Halifax fashion master Mo Handahu's line of custom skirts and tutus is body positive, fashionable and freakin' fun.